Getty Buys Record Italian Nude for $30.5 Million at Sotheby's
By
Auction breaks record for Baroque master Orazio Gentileschi

17th century painting recently hung at the Metropolitan Museum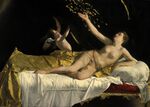 A sumptuous painting by the 17th century Italian artist Orazio Gentileschi, showing a young nude woman about to be showered with gold, sold to the J. Paul Getty Museum for $30.5 million at Sotheby's in New York.
The price for "Danae," which was commissioned in 1621 and recently hung at the Metropolitan Museum of Art in New York, set an auction record for the Baroque artist and was one of the top auction prices for an Old Master painting, Sotheby's said Thursday.
The work, part of the auction house's master paintings evening sale, had been estimated at $25 million to $35 million. Sotheby's guaranteed the consignor an undisclosed price and lined up a client to place an irrevocable bid on the work, ensuring it would sell. The painting attracted three bidders, including Patti Wong, chairman of Sotheby's Asia, on behalf of an anonymous Asian client.
One of three canvases commissioned by the nobleman Giovanni Antonio Sauli for his palazzo in Genoa, the painting remained in the same family until 1975, according to Sotheby's catalog. The Getty Museum owns another of the works, "Lot and His Daughters."
Italian Masterpiece
"Orazio Gentileschi's majestic Danae is a masterpiece of 17th-century Italian painting," Timothy Potts, director of the Getty Museum, said in a statement. "With its ambitious scale and wonderfully sensual subject, the picture has been heralded as one of the most important Baroque pictures to come to market in recent memory."
Potts said reuniting it "with 'Lot and His Daughters,' with which it was intended to hang as part of a spectacular triad of paintings commissioned by a Genoese nobleman, not only makes art-historical sense but multiplies greatly the visual impact of both works."
The previous auction record for Gentileschi was $4.1 million set in 2007.
The auction totaled $53.5 million, missing the low estimate and falling about 6 percent short of last year's tally.
Before it's here, it's on the Bloomberg Terminal.
LEARN MORE