business
A Genetically Modified Mosquito Could Help Fight Zika
By
FDA is reviewing Oxitec's application for trial in Florida

Oxitec's mosquitoes have biosafety approval in Brazil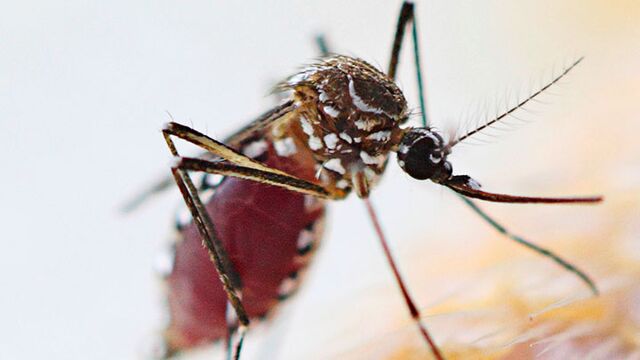 Genetically modified mosquitoes that would help fight the Zika virus are getting urgent attention from U.S. regulators as global health officials raise alarms about the pathogen's spread.
The U.S. Food and Drug Administration is in the final stages of reviewing an application from Intrexon Corp.'s Oxitec unit to conduct a field trial in the Florida Keys, Oxitec Chief Executive Officer Hadyn Parry said in a phone interview. Parry wasn't able to provide further details on the timing of an FDA decision.
Oxitec genetically modifies the males in a breed of mosquito known as Aedes aegypti -- responsible for transmitting Zika, Dengue, Chikungunya and Yellow Fever -- so that their offspring die young. The Zika virus has been spreading "explosively" in South and Central America, the World Health Organization said Thursday. Developing a vaccine could take years, drugmakers and health experts have cautioned.
"In the U.S., fortunately so far, there isn't any transmission of the disease, but the question is how long will that situation last?" Parry said. "If it does come in, then you need to be able to act quickly."
Risk in the U.S.
In the U.S., the risk is that travelers will return from affected countries with the virus in their blood, get bitten by mosquitoes in the U.S., and transmit the virus locally.
The WHO plans to convene a meeting on Feb. 1 in Geneva to consider whether to declare the outbreak -- which may be linked to microcephaly, a birth defect that causes brain damage and abnormally small heads -- as an international public health emergency. It says the pathogen could infect as many as 4 million people in the Americas this year, based on models from the spread of dengue. In most people, the virus causes mild symptoms such as fever, rash and joint pain.
Gene Modification Controversy
Genetically modified animals have not been without controversy. The FDA said Friday that it would ban the U.S. import of salmon made by AquaBounty Technologies Inc. that have genes added to make them grow faster.
"Mosquitoes are food for lots of animals; We would still want to see studies of when birds and bats and amphibians eat these genetically modified animals," said Jaydee Hanson, a senior policy analyst at the Center for Food Safety, an environmental advocacy organization based in Washington. "They're introducing into the ecosystem some genetic constructs that have never been there before."
Hanson also raised the possibility that other mosquito species could still carry the Zika virus. "It doesn't solve the problem."
"You always get some people who say I don't like genetic engineering because it's a bad thing and we're messing with nature," Parry said, referencing concerns that a modified mosquito could spread and take over from other species. "With ours, it's the complete opposite -- it's a self-limiting gene, they can't reproduce."
Oxitec's FDA application includes an environmental assessment that will be published for public comment. The regulator will complete its evaluation after reviewing the information with the Centers for Disease Control and Prevention and the Environmental Protection Agency, according to a statement on its website.
A spokeswoman for the FDA declined to comment beyond referring to the statement.
Brazil Effort
Oxitec, based in the U.K. in Abingdon, near Oxford, won approval for its mosquito in April 2014 from Brazil's biosecurity commission and has a factory in Campinas, near Sao Paulo. Last week, the company said it's building a larger facility in Piracicaba, also near Sao Paulo. Oxitec is awaiting final clearance from the Ministry of Health to authorize the sale of the mosquitoes to local authorities and private operators.
As each female mosquito produces over 500,000 eggs in a month, and they are easily transportable to various regions, scaling up to cover large populations isn't a challenge, Parry said.
"What we're offering is a tool that is going to be really powerful in reducing these mosquito populations and reducing the threat," Parry said. "It needs to be accelerated."
— With assistance by Anna Edney
Before it's here, it's on the Bloomberg Terminal.
LEARN MORE