Frugal in Frankfurt: Can a Penny-Pincher Fix Deutsche Bank?
by , , , and
Co-CEO Cryan struggles to cut costs without killing profit

Warnings to move fast from Fed and British authorities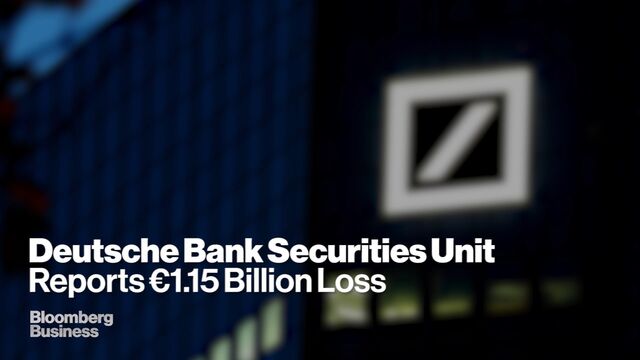 High in the Deutsche Bank Towers in downtown Frankfurt, a radical plan code-named Model 5 was quickly unraveling.
It was April 24, and key players at the German banking giant had assembled on the 35th floor. Rocked by one scandal after another, Deutsche Bank had spent months considering its options. The most extreme was Model 5: cleave the bank in two.

By 10 o'clock that Friday night, say people familiar with the deliberations, that drastic course was abandoned for Model 2, which has now become a painful grind to cut costs. The latest challenge of that strategy was confirmed Thursday: a net loss of 6.8 billion euros ($7.4 billion) for 2015, its first annual loss since 2008 -- along with a warning that the hard work had only just begun.
Today Deutsche Bank is in the throes of one of the most turbulent transformations in its 145-year history. Within six weeks of the Frankfurt meeting last April, many investors had lost confidence in the bank's co-chief executive officer, Anshu Jain, and he was gone. In his place came John Cryan, a cerebral Englishman and, to some insiders, an unlikely choice to restore Deutsche Bank to its former glory.
No Honeymoon
For Cryan, the honeymoon ended even before it began. In short order, he was given a tough message by the Federal Reserve Bank of New York and Bank of England to fix his bank -- or else, according to people familiar with those meetings.

Then, after months of work, the U.K. Financial Conduct Authority held internal discussions last fall about whether to revoke permission for Deutsche Bank to carry out certain businesses, a move that could have crippled it in the City of London, the financial heart of Europe, according to people familiar with that matter.
The FCA, along with the U.S. Justice Department, is investigating a possible money-laundering scheme by Russian clients after Deutsche Bank flagged as much as $10 billion of suspicious trades in Moscow and London. Speaking with Cryan in October, the agency's acting CEO, Tracey McDermott, raised the FCA's concerns about the bank's client-vetting process, according to people familiar with the situation. The next month, Deutsche Bank stopped taking on new clients in high-risk countries while it reviewed its procedures.
Violations, Deficiencies
While Deutsche Bank declined to comment for this story, it said in October it is investigating a "significant" volume of trades by clients in Moscow and London and has advised regulators and law-enforcement authorities in Germany, Russia, the U.K. and U.S. of its review. It said it has identified certain violations of the bank's policies and deficiencies in its controls.
Cryan, 55, is still trying to placate anxious regulators. The price for the bank -- in ambition and reputation, as well as dollars and euros -- will be steep. Deutsche Bank's shares have slumped 41 percent since Cryan took over, exceeding the 30 percent slide in the Bloomberg Europe Banks and Financial Services Index.
The share price "represents something of a bellwether for morale within the company," Cryan told analysts after the earnings announcement. "There's not much we can do other than continue with what we think is the right thing for the bank, which is to plow ahead with the restructuring."
While the likes of Citigroup Inc., JPMorgan Chase & Co. and UBS Group AG have largely weathered probes into crisis-era conduct, Deutsche Bank still confronts allegations ranging from currency manipulation to money laundering to its role in the U.S. mortgage crisis. The bank has said it's cooperating in all the investigations.
Little wonder, then, that Cryan is a man in a hurry. Soon after being named to replace Jain on June 7, he touched down at Heathrow Airport in London on a flight from Frankfurt.
Cost-Cutting

Cryan, who gained a reputation as a cost-cutter as chief financial officer at UBS, quickly marked himself as a different kind of CEO. While Jain routinely used drivers and private jets to commute between Frankfurt and London, Cryan is frequently seen on the Heathrow Express train and commercial flights. One of Cryan's first moves after taking over was canceling the bank's NetJets account for top executives. The message was clear: a new era of belt-tightening had begun.
So had a charm offensive with regulators. Shortly after taking over in early June, Cryan hurried into the New York Fed's fortress-like headquarters in lower Manhattan to meet various officials. Daniel Tarullo, the Fed's top financial regulator, came up from Washington. The Fed's message was blunt: speed up fixing the bank's controls, no grace period.
London Meeting
Back in London, Cryan got a similar lecture at the Bank of England in July. Governor Mark Carney told him Deutsche Bank needed to clean up after a string of compliance failures, say people familiar with the situation. A spokesman for Carney said the bank doesn't discuss the details of private meetings.
Cryan has stuck to the strategy set in motion last April, saying Deutsche Bank's challenges are all about execution. The centerpiece of that plan is to jettison Postbank, a large chunk of the company's retail operation, while slimming down the investment-bank to boost capital. He's announced plans to pull out of 10 countries and shrink the 100,000-strong headcount by a quarter, a move that would bring payrolls back to where they were in 2007.
"This is a bank still looking for a viable business model," said Michael Huenseler, who helps manage 17.4 billion euros, including Deutsche Bank bonds, at Assenagon Asset Management. "It's is going to be tough. They still have quite a few problems to tackle."
Oswald Gruebel, the former UBS CEO, says the challenge for his former colleague is to scale back the investment bank without killing it as a profit engine.
"It's easy to make cuts," Gruebel said in an interview. "What's difficult is to not destroy too much revenue in the process."
A Cambridge graduate who learned German while working in Munich for S.G. Warburg in the 1990s, Cryan is more comfortable talking about classical music or capital requirements than giving grand speeches.
"He's very well-suited to bring a new modesty to the company," Paul Achleitner, the ex-Goldman Sachs partner who chairs Deutsche Bank's supervisory board, said at a conference in Berlin in November. Achleitner declined to comment for this story.
Questioning Compensation
But modesty can rankle -- at least in a business where money is still the ultimate measure. Cryan has wondered aloud if some of his high flyers are worth their paychecks.
"I sit on trading floors and wonder what drives people," he said at a conference in Frankfurt in November. "I don't fully empathize with anyone who says they turn up to work and work harder because they can be paid a little bit more, but that may be a personal view. I've never been able to understand the way additional excess riches drive people to behave differently."
Inside Deutsche Bank's London Wall offices, many bankers and traders were taken aback by the comments. After all, Cryan had worked as an investment banker during the go-go years of mega bonuses at UBS. And his record there includes advising ABN Amro Holding NV on its record sale to a group of banks led by Royal Bank of Scotland Group Plc -- a deal that made a fortune for ABN shareholders but ultimately led to a government bailout of RBS.
Cryan followed through on his pay warning. This week he announced the management board members would receive no bonuses for 2015 and the overall bonus pool would be cut "as a matter of justice."
Cryan's rise to the top of Deutsche Bank began with the close working relationship he formed with Achleitner, who recruited him to the supervisory board in 2013. By most accounts, Cryan was an unusually active board member, keeping in daily contact with Achleitner.
Emergency Meeting
Then, fate intervened. In January 2015, Cryan broke his leg skiing in Utah and was laid up for months following an operation that inserted metal plates in his ankle. While off his feet, Cryan became even more involved in trying to reshape the bank, according to people close to the situation. Before long, Jain was out. Achleitner arrived at Jumeirah Hotel in Frankfurt on the weekend of June 6-7 after calling an emergency board meeting. Cryan was elevated to sit alongside co-CEO Juergen Fitschen, who will step down in May.
Some at Deutsche Bank in London and Frankfurt think pressure from regulators and investors led to Jain's departure, an explanation Achleitner dismissed at the time. "Juergen and Anshu approached me with their decision because they felt that with Strategy 2020 in place, now is the right time for a new leader," Achleitner said in a memo to employees after the change was announced. Deutsche Bank, Jain and regulators declined to comment for this story on the matter.
The hurdles are formidable. No other major bank in London is known to be subject to enhanced supervision by the Financial Conduct Authority.
U.S. Worries
The U.S. is another worry. The word "litigation" appears no fewer than 86 times in Deutsche Bank's last quarterly filing with the Securities and Exchange Commission. It set aside 5.2 billion euros for litigation in 2015. In November, the bank paid a fine imposed by the Federal Reserve and New York's Department of Financial Services for violating sanctions in transactions involving Iran, Syria, Burma and more. Deutsche Bank said the conduct ceased "several years ago" and it stopped all business with the countries involved.
"We've been slow to recognize that we are an extension of law enforcement," Cryan said of the banking industry on a panel at the World Economic Forum annual meeting in Davos, Switzerland, on Jan. 20. "The determination on what constitutes suspicious activity is very, very onerous."
Other pending cases include investigations by the U.S. Justice Department and other regulators into Deutsche Bank's role in currency-market manipulation and metals-price fixing. It's also one of several banks lined up to settle with the Justice Department over sales of mortgage-backed securities. Deutsche Bank has said it's fully cooperating with the investigations. Goldman Sachs agreed to settle a similar case for about $5.1 billion earlier this month. If other settlements are any guide, Deutsche Bank could be on the hook for more than $5 billion as well.
Cryan said the potential mortgage settlement was one of the biggest, if not biggest, unresolved legal cases the bank faces and accounted for the biggest chunk of the additional 1.2 billion euros set aside for litigation in the fourth quarter.
One Deutsche Bank executive likened Cryan's approach to a 12-step program: admit the problem, make amends, move forward. Cryan and Fitschen said as much in a 2015 year-end letter to employees: "We believe that only by identifying problems clearly and by being realistic about their scale can we take actions to overcome them."
Cryan is continuing to take inventory of Deutsche Bank's wrongs and taking steps to fix them, but he's stuck with a strategy -- the more prosaic Model 2 -- that will at best take time.
"He's taking an iron brush to clean up the bank," said Ingo Speich, a fund manager at Union Investment, a top-20 Deutsche Bank shareholder, "but the trust hasn't come back yet."
Before it's here, it's on the Bloomberg Terminal.
LEARN MORE