Euro-Area Inflation Accelerates in Breather for ECB's Draghi
by
Consumer prices rose annual 0.4% in January, most since 2014

Core inflation increased to 1%, energy costs fell 5.3%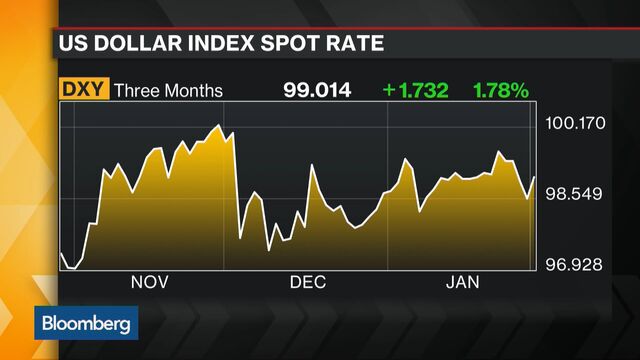 Euro-area inflation accelerated in January, providing a reprieve for European Central Bank officials that may prove temporary as commodity prices continue their descent and emerging markets slow.
Consumer prices rose an annual 0.4 percent, after 0.2 percent last month, the European Union's statistics office said on Friday. That matches the median estimate in a Bloomberg survey of economists and is the biggest increase since October 2014.
While the ECB is on the lookout for any improvement in inflation, policy makers will have to take this data with a grain of salt. The effects from a drop in oil and food prices early last year have finally faded from the 12-month figure, giving it a temporary boost, and the underlying trend in inflation has been soft.
"It's just a technical positive adjustment, but for the coming months we could see some weakness -- maybe in the next six months," Christophe Barraud, chief economist at Market Securities LLP in Paris, said before the report. "CPI should remain contained."
ECB officials' medium-term inflation goal of just under 2 percent remains far off, even as they employ unconventional policies such as negative interest rates and large-scale asset purchases to boost prices. A persistent drop in commodity prices and slowing growth in China and emerging markets have damped price pressures early this year and are making the goal harder to achieve.
Weaker Dynamics
Professional forecasters surveyed by the ECB have cut their inflation outlook for 2016 and 2017 to 0.7 percent and 1.4 percent. They see it averaging 1.6 percent in 2018, a level that the Frankfurt-based central bank predicted less than two months ago would be reached in 2017.
"In this environment, euro-area inflation dynamics also continue to be weaker than expected," ECB President Mario Draghi said at his Jan. 21 press conference, after officials left policy unchanged. "It will therefore be necessary to review and possibly reconsider our monetary-policy stance at our next meeting in early March, when the new staff macroeconomic projections become available which will also cover the year 2018."
One indicator could be particularly worrying for the central bank: The five-year, five-year forward inflation-swap rate, one measure of inflation expectations that Draghi has said he watches, is at its lowest level since January last year.
Base Effect
This month's inflation rate was boosted by a technical factor. As the start of 2015 fades into last year's data, the index should be getting a slight uplift from so-called "base effects." Gas prices dipped sharply at the end of 2014 and start of 2015, weighing down year-over-year inflation figures for the next 12 months. They've also dropped in the first month of 2016, though the decline has recently been less steep.
"The headline inflation rate picks up mechanically," Ken Wattret, chief eurozone market economist at BNP Paribas in London, said before the report. "It looks like for the year as a whole, on the basis of where the oil price is now, headline inflation could be close to zero."
Core inflation, which strips out items with volatile prices such as fuel, rose to 1 percent in January from 0.9 percent the previous month, Eurostat said. Energy costs declined by an annual 5.3 percent.
On Thursday, the German statistics office said annual inflation rate in the euro area's largest economy rose to 0.4 percent in January from 0.2 percent the prior month. Data for Spain, published on Friday, showed prices unexpectedly declined 0.3 percent. Economists had forecast an increase of 0.1 percent.
Before it's here, it's on the Bloomberg Terminal.
LEARN MORE