China Stock Rout Raises Risk for Brokerages' Equity-Backed Loans
Bloomberg News
Surge in shares pledged for debt that now face margin calls

Regulator's rules limit forced-sales through secondary market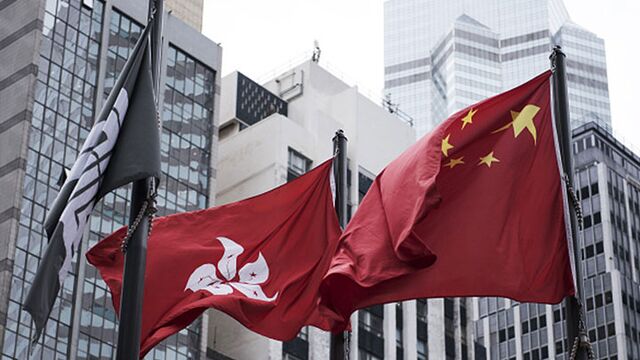 Equity-pledged loans by Chinese brokeragesfacing margin calls jumped almost five-fold during the two weeks ended Thursday as stock prices tumbled.
Shares used as collateral for as much as 20 billion yuan ($3 billion) of debt are now subject to forced sales as the value of the pledged stocks fell below pre-set levels, according to data from the China Securities Regulatory Commission. As of Jan. 14, equity-backed borrowings of 4.1 billion yuan faced margin calls, the regulator previously said.
QuickTake China's Managed Markets
The Shanghai Composite Index fell 6.1 percent this week.
Major owners of publicly traded companies have taken out loans worth about 700 billion yuan from brokerages by putting down their holdings as collateral, Zhang Xiaojun, a CSRC spokesman, said Friday at a press conference.
With thousands of companies pledging their own shares to get loans as stocks soared through mid-2015, the equity rout is forcing more of them to either provide extra collateral or sell holdings to pay back debts. The ratio of loans facing margin calls stood at 0.6 percent as of Jan. 14, the regulator said.
The Lenders
Brokerages are the largest provider of equity-pledged loans, with 58 percent of the market. Banks, trust companies and other financial institutions make up the rest, according to UBS Securities Co. analyst Gao Ting. After Tuesday's 6.4 percent drop in the Shanghai Composite Index, shares subject to margin calls represented about 8 percent of Chinese market capitalization. That proportion could rise to almost 13 percent if prices fall 10 percent further, Gao estimated this week.
Shenzhen Comix Group Co., Searainbow Holding Corp., Yunnan Tin Co. and Fujian Guanfu Modern Household Wares Co. are among companies that had requested trading suspension this week after their stock prices plunged to levels that would require major shareholders to put up additional deposits or collateral for loans.
Most of these borrowers are major owners who are subject to the securities regulator's rules that limit them from cutting their stakes through the secondary market, CSRC's Zhang said. As a result, most of the shares would be sold through methods such as block trades and transfer agreements in the event a forced-selling clause is triggered, he said. The restrictions were designed to smooth out selling pressure after the Shanghai Composite plunged 43 percent from June to August.
The brokerages' equity-pledged loan business has an average maintenance ratio of 249 percent, according to CSRC's Zhang.
— With assistance by Aipeng Soo
Before it's here, it's on the Bloomberg Terminal.
LEARN MORE