China Sees Risk Of Overseas Travellers Bringing In Zika Virus
Bloomberg News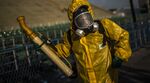 China's health ministry said the country faces the risk of travellers bringing in the Zika virus that is spreading in the Americas, although cold weather may thwart the spread of the mosquito-borne pathogen.
The country is unlikely to see an epidemic as the density of mosquitos is low because of the winter weather, China's National Health and Family Planning Commission said in a statement on Friday.
The World Health Organization now forecasts that there could be 3 million to 4 million cases of the virus in the Americas, and the travel industry has begun to feel the early impact of travellers changing plans to avoid affected areas. While rarely fatal, researchers are studying whether Zika could be responsible for more than 4,000 suspected cases of microcephaly -- a birth defect that causes infants to be born with brain damage and an abnormally small head -- in the Americas.
"The risk for cases to be imported into China is quite high," George Gao, deputy director general of the Chinese Center of Disease Control and Prevention, said by phone. The type of mosquitoes that can spread the virus exist in large areas of southern China and coastal regions are particularly at risk, Gao said.
China is developing prevention and treatment plans that borrow from the experience of other countries, according to the health commission. Its disease control branch has learnt the method to test for Zika virus, and is training health professionals to identify and treat the virus, it said in the statement.
Parts of the southern Guangdong province have residents working in South America and they are likely to travel back to China for next week's lunar New Year holiday, Gao said.
Asian Risk
The Zika virus has similar dynamics to the dengue virus and is mainly transmitted by the same mosquito species, Aedes aegypti, in addition to some other mosquito species, said Ben Cowling, a professor at the University of Hong Kong's school of public health.
"It is inevitable that our region will have imported cases," Cowling, who studies infectious diseases, said. "It is less clear whether our region will have sustained local transmission."
Zika has been in Asia for at least 60 years, with cases documented in Indonesia, Thailand and the Philippines, said Duane Gubler, a professor of emerging infectious diseases at the Duke-NUS Graduate Medical School in Singapore.
It has most likely infected humans sporadically in the region for years, but misdiagnosed as dengue, said Gubler. "All countries in the region that have dengue and chikungunya are at risk."
— With assistance by Hui Li, and Natasha Khan
Before it's here, it's on the Bloomberg Terminal.
LEARN MORE