Central Banks Intensify Campaign for Negative Rates
by
BOJ follows ECB, SNB, Denmark and Sweden into sub-zero world

Negative rates may become `new normal,' says economist Stein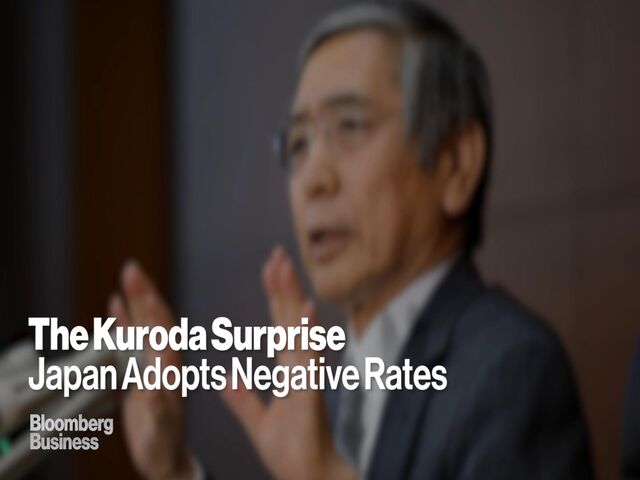 Central banks are turning even more positive about negative interest rates.
In surprising markets by penalizing a portion of banks' reserves, the Bank of Japan on Friday joined a growing club taking the once-anathema step of pushing some borrowing costs beneath zero.

With about a quarter of the world economy now in negative-rate territory, the policy reflects pressure to do even more to ignite inflation at the risk of hurting banks. The lack of fallout so far sets the stage for the European Central Bank to cut rates even more and may fan speculation the Federal Reserve will follow if the U.S. slumps.
"Negative rates are now very much the new normal," said Gabriel Stein, an economist at Oxford Economics Ltd. in London. "We've seen they are possible and we're going to see more."
Japan's adoption of a negative rate as part of a three-tier system makes it the latest central bank to twist toward even more stimulus after 2016 began with the outlook for global growth deteriorating anew. With equities falling, commodities sliding and China slowing, the ECB is signaling fresh aid for March and the Fed this week reduced the likelihood it will raise rates that month.
"This should add speculation that the Fed can do less and the ECB will need to do more," said Christoph Rieger, head of fixed-income research at Commerzbank AG in Frankfurt.

Economists once considered zero as low as central banks could go. Negative rates became more conventional the longer inflation stayed weak worldwide following the 2009 recession, despite central banks slashing their benchmarks and buying bonds.
Sweden, a pioneer back in 2009, Denmark and Switzerland all now have the minus sign before some of their rates and the ECB charges banks 0.3 percent to hold deposits in its coffers overnight.
Cash Disinsentive
The policy's purpose is to make it less attractive for banks to hold cash, forcing them to pass on cheap borrowing costs and loans to companies and consumers. It also tends to weaken currencies, making exports more competitive, albeit at the risk of provoking retaliation from trade partners.
The downside is that banks are pinched, so the policy could backfire if they retrench.
"For the banks, this is generally bad news as regards their profitability -- with long-term interest rates still lower than before and so margins are squeezed," said Brendan Brown, head of economic research at Mitsubishi UFJ Securities in London.
The welcome news is that there has been limited fallout in the Scandinavian economies that first went sub-zero. They have mostly avoided banks pushing the cost on to borrowers or hunkering down to protect profits. Money markets have continued to operate and there has been little flight to cash.
"It has some complexities for the banking system, but the lessons from Denmark, Sweden and Switzerland is that it also has an economic effect" said Kristoffer Kjaer Lomholt, an analyst at Danske Bank A/S.
Testing the Water
The lack of pain so far makes negative rates even more likely at a time when questions are being asked about the power of quantitative easing. The use of tiered systems by the BOJ and Scandinavia in which not all bank reserves are charged may also become a template.
The BOJ may be among those to slice more given the limited size of today's action.
"This move may actually just be to test the water," said Nick Kounis, head of macro research at ABN Amro Bank NV in Amsterdam. "The BOJ has left the door wide open to cut the rate on new reserves deeper into negative territory."
Economists at JPMorgan Chase & Co. predict the ECB will cut its deposit rate to minus 0.4 percent in March from minus 0.3 percent and say it could go as low as minus 1 percent without prompting significant cash withdrawal.
As for the Fed, even as it raises rates, options markets show investors betting there is a more than 10 percent chance of it going negative by the end of 2017. Vice Chairman Stanley Fischer said this month that the downsides of negative rates would be "transitional."
Permanent Revolution
Bank of England Governor Mark Carney has also said he no longer sees 0.5 percent as the floor for the U.K. Israel and the Czech Republic have benchmarks a whisker from zero.
The revolution may be here to stay. The further rates go below zero the longer the rise back to normalcy will take and the greater likelihood central banks will resume the policy in future downturns, said Stein at Oxford Economics.
Negative rates once "sounded illogical," said Stein. "We now know what we thought was true isn't."
Before it's here, it's on the Bloomberg Terminal.
LEARN MORE