Cameron Squeezes EU for More as Juncker Hones Welfare Compromise
by and
European Commission working on `emergency brake' mechanism

U.K. premier meeting Juncker in Brussels, then Tusk in London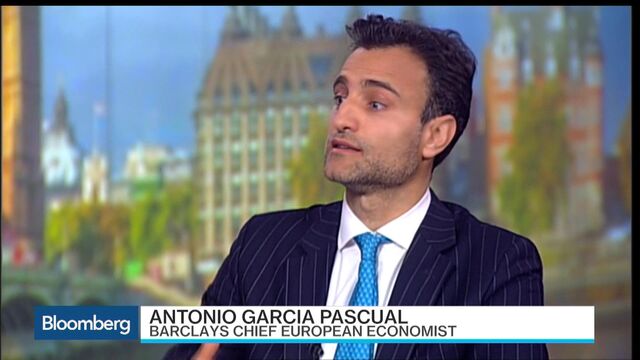 Prime Minister David Cameron signaled he'll press for further concessions from the European Union as he prepared to comb through a compromise plan designed to help him keep the U.K. in the bloc in a meeting with EU Commission President Jean-Claude Juncker.
The Brussels meeting, hastily arranged in place of scheduled talks with his Swedish and Danish counterparts, gives Cameron the opportunity to consider a commission proposal to satisfy his most contentious demand on restricting welfare payments to non-British citizens. The so-called emergency brake would give EU nations the power to limit benefits to migrants if the government can prove exceptional circumstances.

"We've made progress and it's encouraging that people like the European Commission are coming forward with ideas, but there's still a long way to go before we see something that we can actually agree," Cameron said in an interview on the BBC's "Good Morning Scotland" show on Friday before leaving for Brussels. "We're not there yet, they are not yet strong enough and the question with these brakes and ideas, it's very important how they're pulled, how long they last, how much strength they have."
Diplomacy is intensifying three weeks before an EU leaders' summit that could be make or break for the U.K.'s relationship with the 28-nation bloc. After pushing for EU reform for three years, Cameron wants a deal in February that would enable him to hold a referendum on EU membership as early as June.
Selling Victory
The commission was already working on its emergency brake solution at the time of last month's summit, which failed to make sufficient progress to yield a deal for Cameron. Czech Prime Minister Bohuslav Sobotka said last week that discussions were taking place on the same issue.
While the mechanism would give Cameron the opportunity to sell a victory on migration to the British people, it would fall some way short of his original demand for a wholesale ban for four years on in-work welfare payments to EU workers in the U.K.
Cameron may yet decide that it's better to risk the compromise than wait more months for a more acceptable agreement, MujtabaRahman, London-based practice head Europe at the Eurasia Group, said in a note on Friday. Eurasia Group puts the chances of Britain voting to leave the EU, a so-called Brexit, at about a 30 percent.
'Visible Stresses'
"Despite visible stresses in the negotiations as deal-time approaches, all the major players retain a shared interest in meeting the deadline for a June referendum," Rahman said. "All sides understand that a significant delay would also weaken Cameron's position, risking higher-level defections among cabinet ministers who currently appear ready to back a reasonable deal."
An opinion poll published on Friday showed that exactly half of British voters would vote to stay in the EU while 38 percent want the U.K. to leave. The survey, conducted by Ipsos MORI for the Evening Standard, indicated that 58 percent have already decided how they would vote in a referendum. The 12-point gap is the narrowest in an Ipsos MORI survey since 2012 and compares with a 34-point lead for the In campaign in June, the newspaper said. The polling company asked 1,027 adults by telephone on Jan. 23-25.
While phone polls have shown consistent leads to stay in, more frequent online
polls have suggested the race is much closer.
Tusk, Merkel
As well as wanting to limit access to welfare for EU citizens in the U.K. in a bid to stem immigration, the prime minister is seeking to win agreement from fellow EU leaders to give protection to non-euro states, limit the commitment to "ever closer union" and strip away regulations that hamper competition.
Cameron's EU negotiations will continue on Sunday evening when he hosts Donald Tusk, the EU President who represents the bloc's 28 national leaders. The commission's compromise text on migrant welfare payments will feed into a document that Tusk will circulate to leaders early next week and will form the template of a deal ahead of the Feb. 18-19 summit.
Before then, on Feb. 12, Cameron will continue his push for a deal when he speaks at a banquet with German Chancellor Angela Merkel in Hamburg.
Before it's here, it's on the Bloomberg Terminal.
LEARN MORE