Brazilian Budget Gap Hits Record as Commodity Boom Turns to Bust
by
Nominal deficit was 10.34% of GDP and primary gap was 1.88%

Government says needs to focus on mandatory spending cuts
Brazil reported its largest budget deficit on record last year, underscoring the Latin American country's struggles to cope with falling tax revenue as the commodity boom ends.
The budget gap surged to 613 billion reais ($151 billion), or 10.34 percent of gross domestic product, the highest since at least 1997. The same measure before interest payments was 111 billion reais in 2015, or 1.88 percent of GDP, the central bank said Friday. Early last year the government had targeted a so-called primary surplus of 1.1 percent of GDP.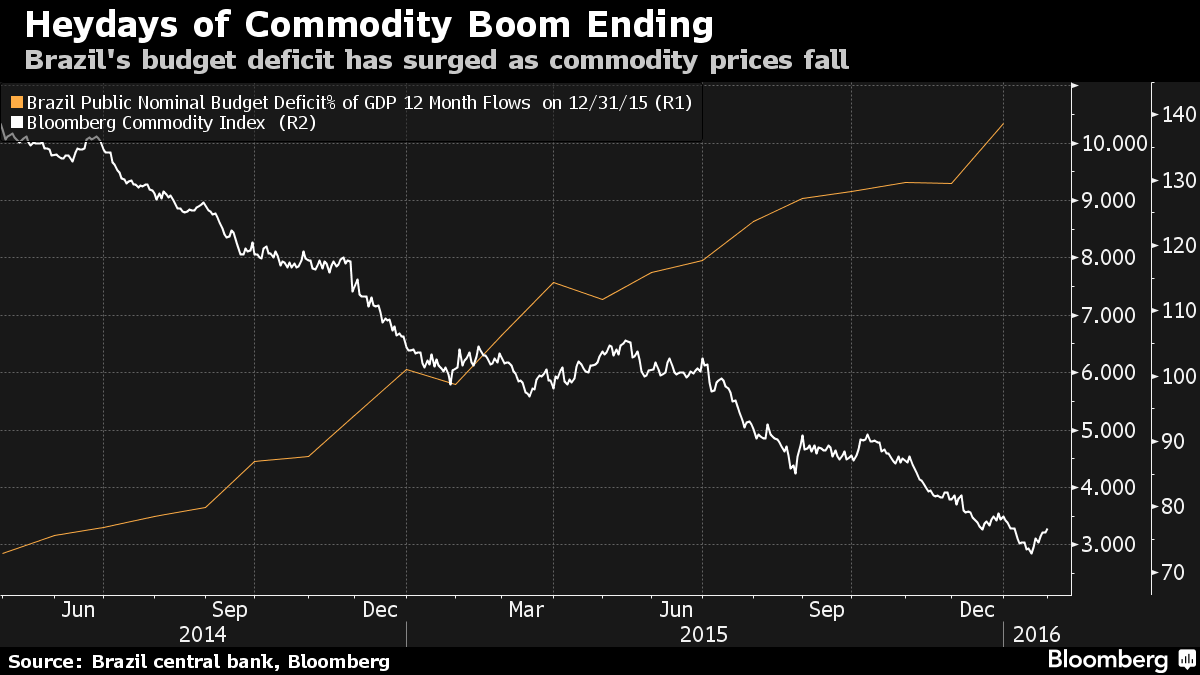 The fiscal impact of falling commodity prices has turned out to be worse than expected for Brazilian authorities, who said early last year that their austerity program of higher taxes and reduced expenditures would shore up fiscal accounts. Finance Minister Nelson Barbosa signaled on Thursday the government would have to tighten belts even further in 2016, by targeting mandatory spending programs that account for more than 90 percent of spending in the primary budget.
"We have to build long-term structural reforms that tackle mandatory expenditures," he said. "The biggest item for Brazil's government -- and most democracies in the world -- is social security."
Cutting back on social security is a contentious proposal in Brazil's Congress, where members of the opposition and even some legislators in the ruling coalition have balked at austerity programs amid a shrinking economy and growing job losses. Analysts surveyed by the central bank are skeptical the administration can succeed any time soon, as they don't expect the primary budget to return to black until 2018.
The government is more optimistic, and targets a primary surplus of 0.5 percent of GDP this year. It says it's starting 2016 in a better position than last year, when it spent 55.6 billion reais to pay back money it owed state banks. Yet that goal also assumes Congress will approve a controversial financial transaction tax this year to boost revenue.
At 71.7 billion reais, the gap in December before interest payments was considerably larger than the median forecast for a 65.2 billion-real deficit. Investors and credit rating companies use the primary budget result to gauge Brazil's fiscal health.
The real was little changed in early-morning trading Friday, at 4.0707 per U.S. dollar.
Before it's here, it's on the Bloomberg Terminal.
LEARN MORE