For Bond Traders, a Fed Hike This Year Is Looking Like a Toss-Up
By
Treasuries wrap up biggest monthly advance in a year

Futures imply 56% chance of quarter-point boost in 2016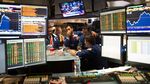 The bond market is even more skeptical about the chances of a Federal Reserve interest-rate increase this year after the Bank of Japan's surprise policy move.
Treasuries wrapped up a 2.3 percent gain in January, the best month in a year, after the BOJ introduced negative interest rates for some bank reserves. The decision prompted traders to assign less than a 60 percent probability that the Fed will boost its benchmark even once this year, down from the 93 percent likelihood seen Dec. 31. When policy makers lifted the target from near zero last month, their median projection called for four increases in 2016.

The move from Japan is another sign of slowing global economic growth, which has triggered volatility across global markets, depressed traders' inflation expectations and spurred a rally in U.S. debt. The European Central Bank has also signaled it may add stimulus. The policy divergence between the U.S. and other major economies risks strengthening the greenback by luring investors to higher-yielding American assets. That could further damp inflation in the U.S., which hasn't reached the Fed's 2 percent target since 2012.
"It's going to make it very hard for the Fed to be the sole holdout, the one that's hiking while everyone else is cutting below zero," said Aaron Kohli, an interest-rate strategist in New York with BMO Capital Markets, one of the 22 primary dealers that trade with the Fed. "Up until now, we had hoped we'd see some stability in foreign-exchange rates, and we wouldn't see further pressure of the disinflationary kind from abroad."
The yield on benchmark 10-year Treasuries fell 13 basis points this week, or 0.13 percentage point, to 1.92 percent, the lowest close since April, based on Bloomberg Bond Trader data. The 2.25 percent security maturing in November 2025 rose about 1 1/8, or $11.25 per $1,000 face amount, to 102 29/32.
The effective fed funds rate priced into the futures market for year-end fell to about 0.55 percent. That's down from 0.63 percent a week ago and below the 0.62 percent level that would imply one more rate increase.