Alibaba's Reliance on China Spooks Investors as Economy Cools
by
Shares slide as growth slows for China's top online retailer

Jack Ma seeking out new businesses from the cloud to services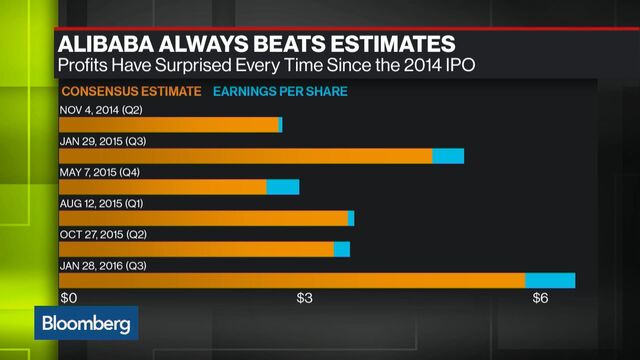 Alibaba Group Holding Ltd.'s earnings report tells us two important things about China's largest e-commerce company: It's finding growth and profit through its latest initiatives, including rural expansion, but there are signs of the slowdown in the world's second-largest economy that're spooking investors.
Alibaba beat analyst estimates for revenue and profit, traditionally the primary metrics by which a company's performance is measured. Nevertheless, investors pushed its stock down in U.S. trading to the lowest in more than three months. The likely culprit is slowing growth in the number of transactions at the company, which could signal trouble ahead for consumer spending.
The challenge for Alibaba is that it's increasingly reliant on China despite aspirations to expand overseas. Chairman Jack Ma has said he wants to eventually get half of the company's sales from abroad. Instead, the proportion of revenue it garners from outside China has fallen for two successive quarters, to 6 percent. That's a liability when the economy is slowing to its lowest growth since 1990 and people such as billionaire George Soros warn of a hard landing ahead.
"Investors are concerned with China's outlook more than any individual company's performance at this point," said Li Muzhi, a Hong Kong-based analyst at Arete Research Service LLP. "Risk appetite for Alibaba is falling as the company's transaction growth sinks and upside potential for monetization in the future is limited."
Bumpy Road
As China's largest online emporium, Alibaba is the standard-bearer for an economy that's navigating a bumpy transition from a high-speed export economy to one anchored by consumer spending. The broader deceleration and Alibaba's own scale -- it handles more e-commerce than Amazon.com Inc. and EBay Inc. combined -- curtails its pace of expansion.
Growth in gross merchandise volume across its Chinese retail marketplaces has fallen for at least three straight quarters, with transaction growth dropping to a record low 23 percent last quarter compared with about 50 percent a year ago. Within the country, Alibaba is casting its net beyond first-tier cities, building operations across 12,000 villages.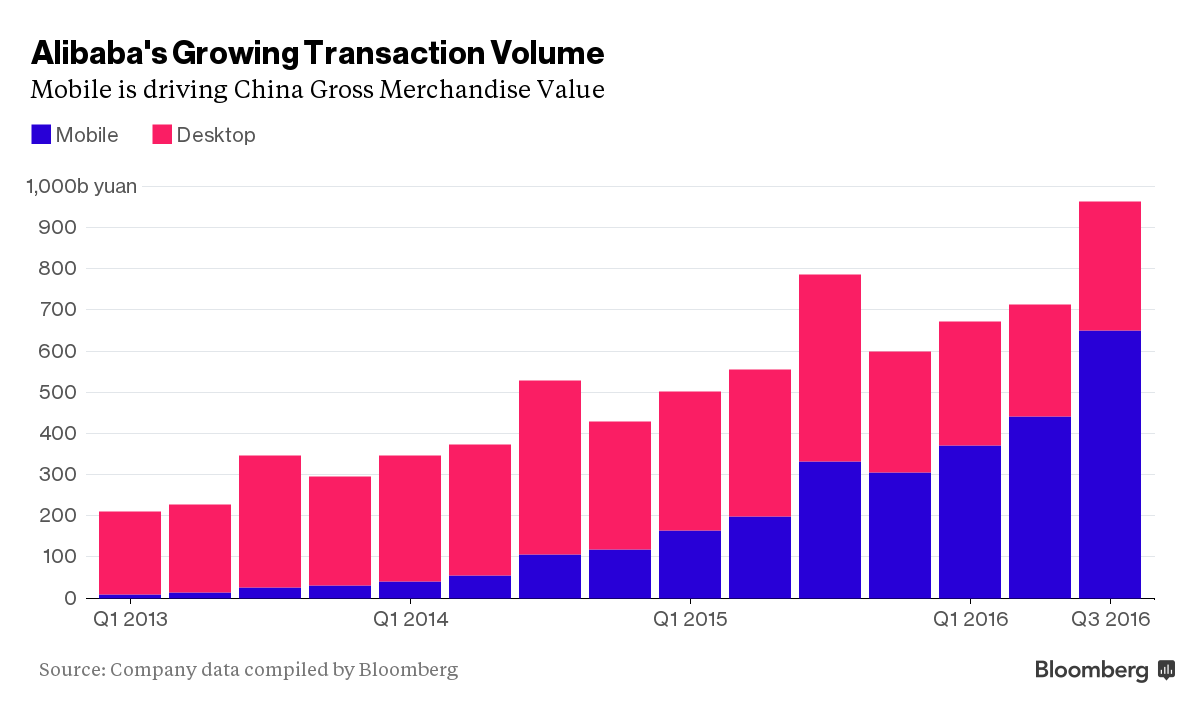 Alibaba's response to the growth dilemma has been to entice affluent buyers with imported brands from Starbucks to Lululemon, tap the growing spending power of the rural population, and explore new businesses such as cloud and on-demand services. 
"Alibaba continues to grow as urbanization and an ever more ambitious middle class continues to drive up China's cost of living and consumption," said New York-based Brian Buchwald, chief executive officer of Bomoda, a consumer intelligence company with a focus on the Chinese market. "At the heart of it, is continued investment in mobile and simplifying payments for virtual and actual purchases."
Branding China
It's pulled out the stops to get its e-commerce platforms in front of villagers, setting up free Internet-equipped computers and working with local officials to train potential buyers and sellers.
"Our strategy is to sell goods from urban areas to villages, as well as help farmers sell farmer products to people living in the cities," Chief Executive Officer Daniel Zhang told investors on a conference call.
Longer-term, Ma is investing in video content, media, on-demand services and cloud computing to generate new sources of income as he takes the e-commerce company global. Some of those initiatives have shown promise but aren't expected to yield growth for now.
Cloud computing revenue rose 126 percent in the third quarter. Its AliCloud unit is staking $1 billion on the belief that demand for processing and storage from governments and companies will boost growth during the next decade as its tries to compete with Amazon in computing services.
Alibaba is also expanding in the online-to-offline services market. Tencent Holdings Ltd., Alibaba and Baidu Inc. are competing for supremacy in a local-services industry primed for growth as more people turn to their smartphones or the Web to order food, schedule beauty treatments or hire domestic helpers. Users of those services could rise 29 percent to 400 million by next year, with sales expected to reach 7.28 trillion yuan by 2017.
More immediately, investors are keeping an eye on the company's ability to capture the money spent on mobile shopping and advertising. The rate at which the online retailer monetizes, or earns revenue from transactions via smartphones and tablets, rose to 2.88 percent in the quarter from just 1.96 percent previously.
Chief Financial Officer Maggie Wu said she expects Alibaba's revenue to grow faster than total transactions "for the foreseeable future," suggesting that the company's monetization ability will continue to improve.
Before it's here, it's on the Bloomberg Terminal.
LEARN MORE