Abe Appoints One-Time Rival as New Right-Hand Man on Economy
by and
Nobuteru Ishihara less experienced than precedessor Amari

Ishihara ran against Abe in 2012 election for party leadership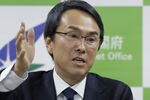 Japanese Prime Minister Shinzo Abe appointed a long-time associate and one-time rival as Economy Minister, replacing the key architect of his Abenomics polices with a politician who has limited experience on economic and trade issues.
Nobuteru Ishihara, 58, has served as secretary general of the ruling Liberal Democratic Party, as minister for administrative reform and as transport minister, but never in a cabinet position that forms part of the Council on Economic and Fiscal Policy, the government's control center for economic strategy.
The appointment Thursday came immediately after Akira Amari stepped down in a bid to limit damage to the administration after he faced allegations he took money in return for political favors. Abe needs a steady hand on the economic tiller amid stock market losses and growing concern that fallout from the slowdown in China is eroding some of the gains of his "Abenomics " policies, months before an upper house election expected in July.
"He has a clean image in terms of money," said Izuru Kato, president of Totan Research in Tokyo. But, compared to Amari, "I have the impression he is lacking in ability," he added.
Amari was Japan's top negotiator on the Trans Pacific Partnership regional trade deal, which Abe must now seek to ratify in parliament. He was a driving force of Abenomics, pushing business-friendly policies such as deregulation in special economic zones.

"The light of Abenomics is at last spreading to the regions and to small and medium-sized enterprises," Ishihara told reporters Thursday. "I want to firmly carry out macro economic policies to back up this trend."
Ishihara, ran against Abe in the 2012 race for leadership of the party, but the two were closely associated earlier in their careers. Along with current Health Minister Yasuhisa Shiozaki and another lawmaker, they formed a group in the late 1990s to work on pensions and social security policy.
As of Friday, he literally becomes Abe's right-hand man, according to the Nikkei newspaper, which said Ishihara would take Amari's place to Abe's right in cabinet meetings.
Ishihara worked as a television reporter before entering politics, but he is probably best known as the son of the former Tokyo governor Shintaro Ishihara, who is an outspoken nationalist and apologist for Japan's role in World War II. Ishihara junior is seen as more moderate in his views than his father.
The elder Ishihara was responsible for ratcheting up China-Japanese tensions in 2012 by announcing the metropolitan government planned to buy a group of islands disputed between the two countries and build on them. Yoshihiko Noda, prime minister at the time, had the central government purchase them instead, saying Ishihara's move could have caused a conflict with China. That purchase still prompted anti-Japanese protests in China and a plunge in sales by companies such as Toyota Motor Corp.
Before it's here, it's on the Bloomberg Terminal.
LEARN MORE