Why You Can't Get Springsteen Tickets: New York's AG Explains
by and
Eric Schneiderman says ticketing 'is a fixed game' in report

For hot concerts, 54% of tickets never went on sale to public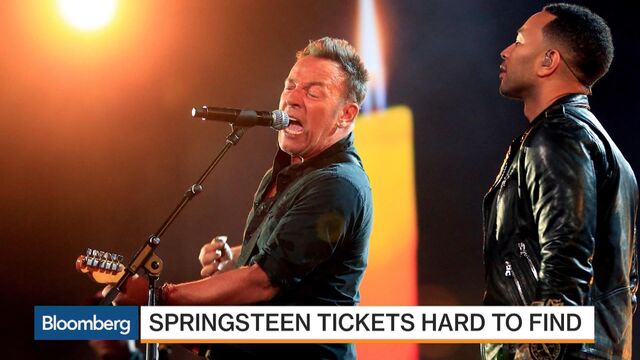 You, a Bruce Springsteen-lover from Staten Island, spent the better part of a December morning refreshing your web browser in an attempt to buy tickets for The Boss at Madison Square Garden. It didn't work out, and now Eric Schneiderman wants you to know it wasn't your fault.
The New York Attorney General's office outlines all the ways the ticket market is stacked against the average consumer in a 44-page report to be released Thursday. Public inventory is limited, some ticket brokers get favored treatment, and still others used bots to buy up large swaths of seats (yes, that's illegal) before your slow computer even enters the line.
"Ticketing, to put it bluntly, is a fixed game," Schneiderman wrote in the report, and the fix starts long before tickets officially go on sale to the public. In a study of New York's highest-grossing concerts, 38 percent of tickets were distributed by presale to fan club members or as credit card rewards. Another 16 percent went to industry insiders (artists, agents, sponsors). That means more than half the tickets never even went on sale to the public.

Sometimes it's worse. A 2013 Kanye West concert at the Barclays Center in Brooklyn withheld 29 percent of seats for insiders, Schneiderman says. Earlier that year, some 71 percent of tickets to see Justin Timberlake and Jay-Z at Yankee Stadium were distributed through presales. According to Schneiderman, "For many of the top shows, less than 25 percent of tickets we actually released to the general public."
Of the tickets that do actually go on sale to the public, many brokers use software, or "bots," that can jump in line faster than you can click "buy." For example, last December a single bot bought 1,012 tickets in one minute for a 2015 U2 show at Madison Square Garden, Schneiderman said, in spite of a four-tickets-per-buyer policy.
Those tickets show up quickly on the secondary market with massive markups. Some shows resell more than 10 times face value, according to Schneiderman. And sometimes brokers sell tickets they don't even have.
You may have noticed that those Springsteen tickets were listed on resale sites like StubHub or TiqIQ for $5,800 -- before they were even released. Those were probably listed by someone selling on spec, either because they know the ticket is coming, or because they're betting they can fill the order by purchasing a cheaper seat at a later date. (This kind of short selling wreaked havoc on the 2015 Super Bowl.)

Even if you can get a ticket, you're subject to additional fees for "convenience" or "processing" or "handling," charges that Schneiderman says come at "considerable cost to consumers." On average, vendors charge fees of 21 percent of face value, according to the AG. While New York law states these fees must be "reasonable," Schneiderman found them to be out of step with other types of online ticket vendors, like Expedia and Priceline for travel and Fandango and MovieTickets.com for film.

Trade is also restricted. Some ticket issuers, including the NFL and the New York Yankees, put in place price floors that prevent tickets from being resold below face value. All of this, Schneiderman says, distorts the market and prevents buyers and sellers alike from receiving exactly what the market bears.
The Attorney General's solution? Schneiderman asked the New York State Assembly to consider capping the markups charged on secondary markets, and advocated more aggressive policing of already illegal ticket-buying bots, plus transparency for ticket allotments and face-value prices.
Before it's here, it's on the Bloomberg Terminal.
LEARN MORE