Waiting for Ambani Tests Patience of Billionaire's Bondholders
by and
No major asset sales completed since September announcement

Reliance Communications dollar bond yield has surged this year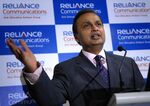 Billionaire Anil Ambani's progress in winning confidence of creditors last year is being eroded by a global market rout and delays in delivering on asset-sale promises.
In the four months since revealing plans to cut debt across his companies, no major sales have been completed and an emerging-market slump has spoiled a rally in Ambani-linked bonds and shares. The yield on Reliance Communications Ltd.'s dollar notes surged this year by almost as much as it fell in 2015, while measures of default risk of that firm and Reliance Infrastructure Ltd. have risen from record lows.
Ambani announced planned sales of towers, cement units and road projects in September to help the two companies become net-debt free by March of next year. While spokespeople at both firms declined to comment, executives have signaled that deals are imminent. Total debt across the group's three listed telecoms and utilities firms more than tripled to 988 billion rupees ($14.5 billion) since the global financial crisis, data compiled by Bloomberg show.
"Announcements have been made, but the deals aren't striking through," said Deven Choksey, the Mumbai-based managing director at brokerage K.R. Choksey Shares & Securities Pvt. "Completion of asset sales is key to paring debt at the group level, and hence is keeping creditors jittery."

The chance of Reliance Infrastructure defaulting on its debt in the next year has risen to 0.86 percent after sinking to a record low of 0.54 percent on Jan. 5, according to Bloomberg's default-risk model which considers factors such as indebtedness, profitability, market value and stock volatility.
The construction firm's shares have declined 16 percent this year after it last month announced plans to complete a sale of cement units by the end of 2015. It expects to get 26 billion rupees from the deal, and is also seeking to sell road projects valued at 90 billion rupees. Chief Executive Officer Lalit Jalan told reporters on Jan. 20 the cement sale should be announced "in the coming week."
The yield on Reliance Communications' 2020 dollar bonds issued in April has jumped 43 basis points this year to 6.24 percent, after dropping 54 basis points in 2015. Shares of India's fourth-largest wireless carrier have slumped 30 percent in January, compared with a 6.3 percent fall in the S&P BSE Sensex. Its default risk climbed to 0.53 percent from a record low 0.3 percent on Jan. 1, the default-risk model shows.
Yields on Indian corporate notes in dollars have jumped 12 basis points since Dec. 31 to 5.01 percent after climbing to a more than two-year high of 5.1 percent earlier this month, according to Bank of America Merrill Lynch indexes. That means higher financing costs just as Prime Minister Narendra Modi pursues a $1 trillion wish list of infrastructure projects. Mobile carriers in the nation are taking on ever-larger debt loads to help implement Modi's Digital India initiative, which seeks to broaden Internet access.
Coming Soon
Reliance Communications signed a non-binding pact last month to sell its cellular towers to private equity firms Tillman Global Holdings LLC and TPG Asia Inc., which had to be ratified by Jan. 15. It's now expected to come through in the next two weeks, the firm said on Monday. The tower buyers were also considering purchasing some of the company's optic fiber assets in a separate deal yet to be confirmed.
At the same time, Reliance Communications has raised its forecast capital spending to 40 billion rupees from 30 billion rupees for the year through March 2016, to expand its third generation wireless services.
Trung Nguyen, a Singapore-based credit analyst at Lucror Analytics Pte., raised his recommendation on the carrier's 2020 bonds to a "hold" because of the tower sales and spectrum pacts signed this month with sibling Mukesh Ambani's Reliance Jio Infocomm Ltd.
"My sentiment towards Reliance Communications improved significantly since they announced the tower asset sales," said Nguyen. "The group needs to follow through."
Before it's here, it's on the Bloomberg Terminal.
LEARN MORE