U.K. Welsh Secretary Becomes Latest Minister to Fly Pro-EU Flag
by
Staying in reformed EU in Britain's best interests, Crabb says

Only Grayling has signaled he's likely to campaign to leave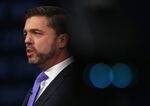 The minister responsible for Wales became the latest member of the U.K. cabinet to declare himself in favor of staying in the European Union as Prime Minister David Cameron bids to renegotiate membership terms before a referendum that may come as early as June.
QuickTake Will Britain Leave the EU?
"If the prime minister's renegotiation is successful and he secures the reforms he has spelt out, then I believe it will be in the U.K.'s best interests to remain in a reformed European Union," Welsh Secretary Stephen Crabb will say in a speech to the Cardiff Business Club Thursday, according to extracts released by his office. "Businesses across the length and breadth of Britain -- and here in Wales -- support the prime minister's approach."
Crabb's intervention comes as no surprise: he told the BBC in May last year that businesses in Wales are "huge winners" from being in the EU. He joins cabinet colleagues led by Foreign Secretary Philip Hammond who've swung firmly behind Britain staying in the EU over the past few weeks. Energy Secretary Amber Rudd, Environment Secretary Liz Truss and the chief secretary to the Treasury, Greg Hands, have also made pro-EU statements.
While Cameron has said euro-skeptic ministers will be able to campaign to leave the 28-nation bloc, the leader of the House of Commons, Chris Grayling, has been the only member of the cabinet to publicly espouse an anti-EU stance. He wrote in the Daily Telegraph newspaper that staying in the bloc on current terms would be "disastrous" for the U.K.
A number of other senior ministers, including Home Secretary Theresa May and Business Secretary Sajid Javid, have yet to signal their intentions. London Mayor Boris Johnson also remains on the fence.
Before it's here, it's on the Bloomberg Terminal.
LEARN MORE