Photographer: Kiyoshi Ota/Bloomberg
This Time Is Different for Abe in Facing Political Scandal
by and
Amari resignation `won't change the framework of Abenomics'

Abe has learned lessons from first, short-lived administration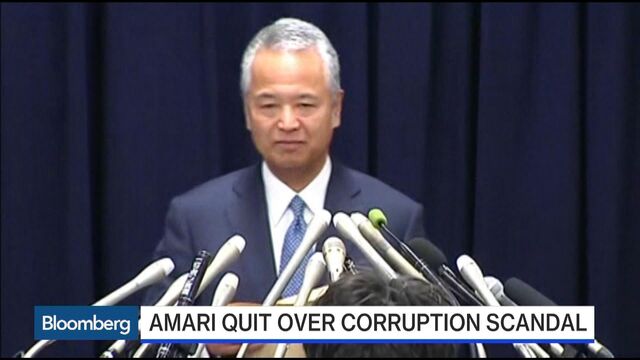 Japanese Prime Minister Shinzo Abe, facing one of his biggest tests since his second turn at the helm began in 2012, is set to fare better than when scandals helped bring down his first administration.
On Thursday, he suffered his worst cabinet casualty to date when Economy Minister Akira Amari, the spearhead of his "Abenomics" strategy to boost growth and competitiveness, stepped down after a week fending off allegations he received money in return for favors.
Still, there have been few threats to Abe's hold on power within or outside the ruling Liberal Democratic Party since he won office. That suggests he has learned lessons from a tumultuous six-year period in Japanese politics before the 2012 election, when the country saw a revolving door of six prime ministers. Abe's first administration lasted less than a year before he stepped down in 2007.
The premier's "Abenomics" program -- while far from being judged a success -- has spurred record corporate profits and gains in the stock market. Ahead of national elections this summer, polls conducted after the claims were published in a tabloid magazine showed public backing for Abe's cabinet was almost unchanged at just under 50 percent.
"Abe's administration has enjoyed smooth sailing and has kept a high support rate relative to other administrations in the past," said Masaaki Kanno, Japan chief economist at JPMorgan Chase & Co. and a former official at the Bank of Japan. The resignation of Amari won't change the overall framework of Abenomics, he said.

The opposition furor over the allegations against Amari had threatened to delay passage of the budget for the coming fiscal year and distract the government from its economic agenda at a time of global market turmoil and a slowdown in China. His resignation may help circumvent that. The parliamentary budget committee -- often used as a venue for the Democratic Party of Japan to attack the government -- was expected to meet as soon as Friday.
"In order to escape deflation and build a strong economy, we need to pass the budget and related important bills as soon as possible," a tearful Amari said Thursday as he announced he was stepping down. "We need to remove any impediments to that and I am no exception."
The opposition signaled it may pursue the matter. "Leaving the cabinet is a matter of course," DPJ secretary general Yukio Edano said, according to the Sankei newspaper. "I doubt whether just resigning from the cabinet will put an end to this."
Parliament Priorities
Continued control of parliament means Abe's administration would retain the ability to pursue a reform program that includes joining the Trans-Pacific Partnership, a U.S.-led free-trade agreement, opening up the agriculture sector, and establishing zones with less business regulation. Amari, who was in charge of the reforms, had yet to champion tougher policy changes such as liberalizing the job market to improve labor mobility.
The most visible part of Abenomics has been monetary policy, where Abe's hand-picked governor of the Bank of Japan continues to oversee a record asset-purchase program that's driven down the value of the yen in the past three years. Governor Haruhiko Kuroda on Friday will decide whether to expand on his efforts, in a decision some officials at the BOJ believe is a close call, people familiar with the discussions have said.
Amari stepped down after a week spent rebutting the magazine allegations that he and his staff took money from an unidentified construction company in an alleged violation of a political funding law. The payments amounted to at least 12 million yen ($101,000), the tabloid said. A follow-up story said Amari twice pocketed envelopes containing 500,000 yen in cash, a claim he denied on Thursday.
New Man
Abe wasted no time in replacing Amari with party stalwart Nobuteru Ishihara, a former secretary general of the LDP. Ishihara, the son of former Tokyo governor Shintaro Ishihara, was one of Abe's challengers when he was elected head of the party before returning to power.
While Ishihara told reporters in Tokyo that he'd carry on with the Abenomics baton, some analysts see him as an unknown entity.
"It's unclear to what extent Mr. Ishihara is knowledgeable about TPP trade issues and economic policy, and how much ability he has in terms of negotiating on those issues," said Junichi Makino, chief economist at SMBC Nikko Securities Inc. in Tokyo. "The future course of Abenomics and the continuity of the Abe administration's policies are uncertain."
Data on Friday underscored the scale of the task Ishihara faces: consumer prices stayed barely above zero, industrial production fell, and household spending dropped.
Lessons Learned
Amari is the fourth cabinet member to resign over allegations of financial impropriety since Abe returned to power. None were as important to Abe as his economy minister, who completed tough negotiations with the U.S. over the TPP even after battling cancer of the tongue. Amari had been expected to travel to New Zealand for the signing of the trade pact by the 12 countries involved on Feb. 4.

Abe recovered from those previous resignations to win a snap general election by a landslide in December 2014.
Markets in Japan showed only a muted reaction to the Amari news. There was a brief rise in the yen in Tokyo before it settled little changed at 118.71 against the dollar for the session.
"Abe in his first administration was just horrible at handling these problems," said Steven Reed, a professor of political science at Chuo University in Tokyo who is writing a book about political corruption in Japan. The Amari issue is "the kind of problem that in the first Abe administration would have been lethal and under the DPJ would have been lethal, but they have learned how to deal with them."
Before it's here, it's on the Bloomberg Terminal.
LEARN MORE