Telefonica to Take $3.2 Billion Charge for Jobs Cuts
by
Spanish carrier sees yearly savings of 370 million euros

Company signaled last year it was weighing staff reductions
Telefonica SA, Europe's second-largest phone company, will offer employees early retirement in a plan that will cost 2.9 billion euros ($3.2 billion) upfront while saving money over the longer term as management seeks to reduce debt.
The Spanish telephone company will open the voluntary plan immediately to some employees, and will report the charge as part of its fourth-quarter results due next month, according to a regulatory filing on Thursday. The move will save an average 370 million euros annually, starting in the second year of the plan, although there will be "a positive impact" from the initial year, the company said.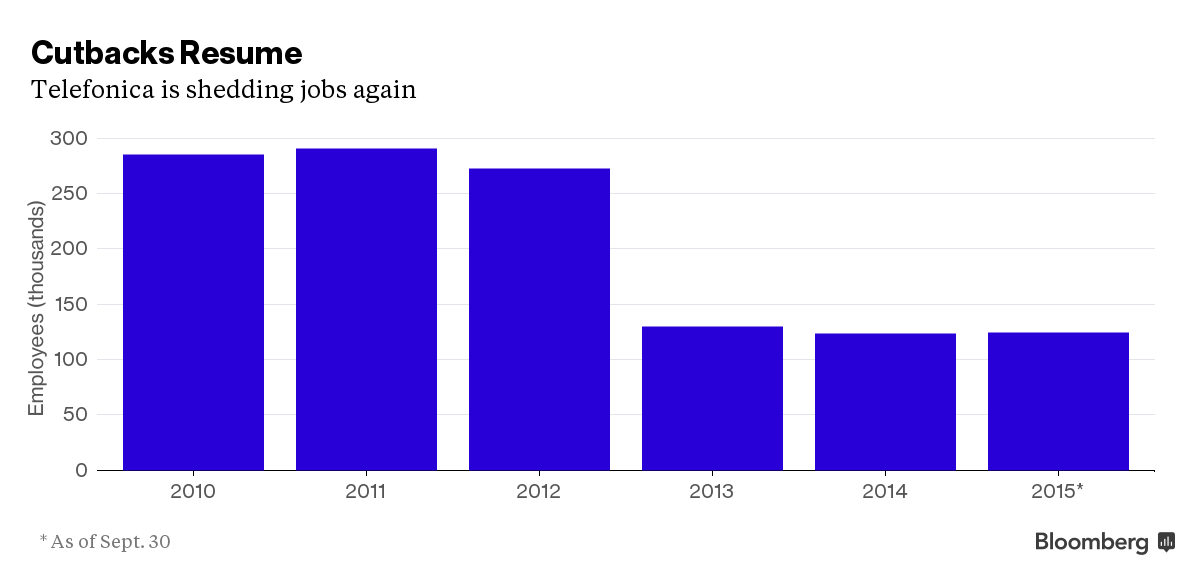 The staff cutbacks are part of several initiatives at Telefonica to meet a target of slashing debt to about 31.7 billion euros, from the 49.7 billion euros it reported as of Sept. 30. The company has already earmarked proceeds from the pending sale of its British unit O2 to cut leverage. People familiar with the matter said late last year it is also studying an initial public offering of its infrastructure unit to raise funds.
The cutbacks come as Telefonica seeks to boost profits in its home market, where revenues grew for the first time in seven years in the third quarter. The company, which operates in Germany, Spain and most of Latin American, had about 124,000 employees as of Sept. 30 -- down from more than 291,000 in 2011.
Telefonica shares rose 2.55 percent at 10:58 a.m. in Madrid to 9.58 euros. The stock is down 6.4 percent this year.
The cost cuts will add about 1 percent to estimated 2016 adjusted operating income excluding depreciation and amortization and about 2.5 percent to estimated 2017 earnings, Mathieu Robilliard, an analyst at Barclays Plc, said in a note to clients. It also means Telefonica can "stabilize and grow its domestic OIBDA."
Telefonica had announced last year it was working on a retirement plan to cut staff and was going to hold talks with unions.
Before it's here, it's on the Bloomberg Terminal.
LEARN MORE