Takata CEO Said to Face Pressure to Resign as Crisis Deepens
by , , and
Air-bag maker meeting automakers including Honda on recalls

Honda said to be more receptive on support if CEO resigns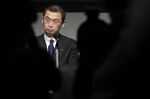 Takata Corp. management led by Chief Executive Officer Shigehisa Takada is under pressure from major stakeholders including Honda Motor Co. to step down over the biggest U.S. auto-safety recall, according to people familiar with the matter.
Automakers will be more receptive to supporting Takata if management takes responsibility for the recalls and resigns, said the people, who asked not to be identified discussing internal deliberations. While not yet a condition to helping the air-bag supplier, a consensus among carmakers is growing that it'll be difficult for Takata to regain their trust without this move, the people said. Honda and Takata both declined to comment.
Takata's stakeholders could face opposition to Takada, 49, being included among management resignations. His grandfather and father ran the company from its founding in 1933 until he first became president in 2007, and Takada family members own about 58 percent of its shares. The company is said to be planning to detail its business outlook to major customers at a meeting on Friday to gauge how receptive the automakers will be to providing financial support.
Frustrations have been rising as automakers approach the eight-year mark since Honda, which owns a 1.2 percent stake in Takata, first recalled vehicles with air bag inflators that are prone to deploy with too much force, spraying metal and plastic shards at drivers and passengers. The crisis has deepened this week, with the company reporting an 11th death potentially linked to the defect. About 100 people have been injured in the U.S. alone.
Ford Motor Co. is among Takata customers adding to recalls that have already cost automakers about 600 billion yen ($5 billion) to 700 billion yen, a person familiar with the matter said earlier this week. Takata, Honda and a consortium of automakers in the U.S. including Toyota Motor Corp. are backing investigations into the root cause of the air bag ruptures. Those efforts will determine how much of the recall costs Takata will end up being on the hook for repaying customers.
Recalls, Fines
Before a fatal accident in a 2006 Ford Ranger in December prompted more recalls this month, automakers had already recalled about 19 million vehicles in the U.S. Takata reached an agreement with its U.S. regulator in November to pay at least $70 million in fines, fire some employees and phase out the chemical propellant in its air-bag inflators that has been linked to the failures. If the company violates the accord, it will be subject to fines totaling as much as $200 million, which would be the largest civil penalty by the National Highway Traffic Safety Administration.
Takata has already made an attempt to shake up management in the midst of the air-bag crisis. The company hired former Robert Bosch GmbH executive Stefan Stocker in 2013 and made him president, with Takada becoming chairman. Stocker left the company late the following year, with Takada retaking the role of president.
Takata rose 0.2 percent to 597 yen in Tokyo. The shares have declined 81 percent during the last two years.
Before it's here, it's on the Bloomberg Terminal.
LEARN MORE