Suu Kyi's Myanmar Government Takes Shape With First Nominees
by and
NLD selects party veterans to lead both houses of parliament

Presidential candidate still uncertain ahead of Monday session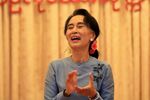 Aung San Suu Kyi's National League for Democracy announced its first picks for key positions in Myanmar's new government, naming leaders for both houses of parliament ahead of the first legislative session Monday.
QuickTake Myanmar's Transition
Since ousting the ruling military-backed government in historic November elections, the NLD had been silent about who would lead cabinet ministries, control the legislature and hold other top jobs. The most-anticipated decision is who the NLD will put forward as president, a position Suu Kyi is constitutionally barred from holding.
Suu Kyi has pledged to run the government and remain above the president. Her choice of a figurehead to hold the post may not be known for more than a month.
The NLD will nominate Mahn Win Khaing Than -- the grandson of a cabinet minister assassinated alongside Suu Kyi's father in 1947 -- as chairman of the upper house of parliament, senior party member Win Htein told reporters Thursday. If the NLD follows the established rotation between the two houses, Mahn Win Khaing Than, 63, will also become speaker of the combined parliament.
Win Myint, 64, will be the party's choice as chairman of the lower house, Win Htein said in the capital, Naypyidaw. Win Myint serves on the NLD's central executive committee, a group of senior leaders who meet regularly with Suu Kyi. Legislative approval of the two chairmen is practically assured as the NLD holds a majority in both houses. 
The speaker in the outgoing parliament is Shwe Mann, a former general in the junta that has ruled the country by itself or through its proxies for a half-century.
In what will likely be his final speech to parliament, outgoing President Thein Sein reiterated Thursday that the transfer of power to the new government -- the first of its kind in Myanmar -- would be peaceful. He implored the next legislature and government to "work for peace, stability and the development of the country."
Before it's here, it's on the Bloomberg Terminal.
LEARN MORE