Slump in Durables, Fewer Jobless Claims: U.S. Economic Takeaways
by and
Capital goods orders ex defense, planes drop most in 10 months

Applications for jobless benefits fall from six-month high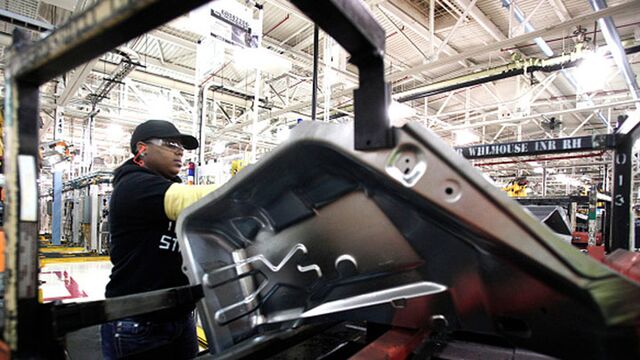 What you need to know about Thursday's U.S. economic data:
DURABLE GOODS ORDERS (DECEMBER)
Fell 5.1 percent, most since August 2014 (0.7 percent decline forecast)
Non-military capital goods orders minus aircraft dropped 4.3 percent (0.2 percent decrease estimate); shipments fell 0.2 percent (0.8 percent rise estimate)
Pullback reflected less demand for planes, computers and machinery
The Takeaway: "Abysmal," "Ugly all around" and "Terrible." -- that's how economists, some of whom revised down their 4Q GDP tracking estimates, summed up the durable goods report. The data showed business investment was in trouble even before global financial markets took a turn for the worse. Orders for non-defense capital equipment fell by the most in 10 months and November was revised lower. As the stronger dollar, lower oil prices and global softness continue to plague manufacturers and energy producers, the weakness in capital spending may persist through the first quarter as well. At the same time, the report showed inventories of durable goods -- those meant to last three years -- climbed last month by the most since December 2014, indicating stockpiles will be less of a drag on 4Q GDP.

INITIAL JOBLESS CLAIMS (WEEK ENDED JAN. 23)
Fell by 16,000 to 278,000
Four-week average, a less-volatile measure, dropped by 2,250 to 283,000
Continuing claims rose to 2.27 million in week ended Jan. 16, the highest since the end of July
The Takeaway: The decline indicates that a sudden surge in the prior period to a six-month high was more indicative of volatility typically associated with post-holiday staff adjustments rather than any weakness in the labor market. Fewer firings point to steady demand for workers. Since early March, applications for unemployment insurance have been below the 300,000 level that economists say is typically consistent with an improving job market. The report is in sync with labor market improvement that the Federal Reserve cited on Wednesday after its meeting.

PENDING SALES OF EXISTING HOMES (DECEMBER)
Rose 0.1 percent (0.9 percent gain forecast) after 1.1 percent drop
Advanced 3.1 percent from December 2014 after 4.9 percent year-over-gain in November
Index of 106.8 was second-weakest since January 2015
The Takeaway: The slight increase in contract signings after November's slump indicates last month's record jump in actual closings on existing-home sales was more a reflection of changes in federal regulations than a sign of flourishing demand. "The underlying pace could be a bit softer," Derek Lindsey of BNP Paribas wrote in a note to clients. What's more, contract signings rose only in the Northeast region, which was probably due to record warm December temperatures. While favorable mortgage rates and robust job growth set up for a stronger spring selling season, the market remains hamstrung by limited inventory and rising prices.

Before it's here, it's on the Bloomberg Terminal.
LEARN MORE