Saudi Arabia Spending Through Oil Crash to Sustain Production
by and
`Investments must be made' to keep producing, Al-Saadoun says

Global output declining as much as 1.5 million b/d, FGE says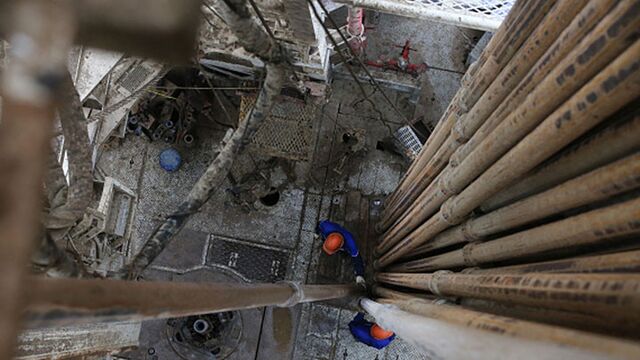 The world's biggest oil exporter will continue spending through the through the energy price crash to prop up output.
Saudi Arabia is investing in its oil fields to sustain production amid a price plunge to the lowest in 12 years, according to Aabed A. Al-Saadoun, deputy minister for company affairs at the Ministry of Petroleum and Mineral Resources.
"Companies have already slashed billions of dollars in investments, but this will pose problems for the global economy if and when demand picks up and supply is not there to meet it," Al-Saadoun said at a conference in Tokyo on Thursday. "The kingdom of Saudi Arabia is also conscious that investments must continue. Just to keep fields producing at current levels, investments must be made and we are committed to making these investments."
Prices have slid more than 50 percent since Saudi Arabia led a 2014 decision by the Organization of Petroleum Exporting Countries not to cut output amid a global oversupply in order to defend market share and drive out higher-cost producers. The country's 10.1 million barrels a day of crude production accounted for more than 10 percent of global o oil supply last year, according to the International Energy Agency.
Global Production
Spending on global oil and gas exploration and production will fall almost 20 percent this year to about $450 billion, according to consultant Wood Mackenzie Ltd., and independent U.S. explorers are expected to report losses totaling more than $15 billion this earnings season.
Global oil production over the next 12 months will fall as much as 1.5 million barrels a day with as much as two-thirds of the reduction coming from the U.S., according to FGE Chairman Fereidun Fesharaki. Output in Latin America will decline 300,000 barrels a day with Brazil the most vulnerable, said Fesharaki, who spoke at the same conference.
"There is no doubt that low prices result in lower investments by oil companies across the board," Al-Saadoun said. "In the short term, the current price environment means that projects are being canceled or mothballed."
Al-Saadoun's comments come the same week as Khalid Al-Falih, chairman of the kingdom's state oil producer Saudi Arabian Oil Co., said the company is spending as much now as it did before the price collapse and maintaining investments in oil and natural gas projects.
Before it's here, it's on the Bloomberg Terminal.
LEARN MORE