Russia Comments Tease Oil Market Eager for Glimmer of Hope
By
Crude prices briefly spike on talk of a Russia-OPEC discussion

OPEC delegates deny plans for meeting with Moscow next month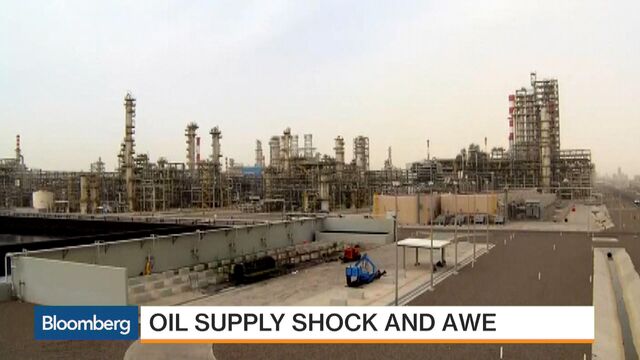 For a few minutes, at least, there was a glimmer of hope for the world's struggling oil producers.
After months of opposing any production cuts, Russia said on Thursday it would be willing to discuss output levels with OPEC -- opening the door for a deal with Saudi Arabia to revive oil prices hovering at $30 a barrel.
Brent crude, the global benchmark, surged almost 8 percent to $35.84 a barrel almost immediately. But the joy for oil producers -- and some traders -- was short-lived, and the price slid back to $34. Within minutes, OPEC delegates said they knew nothing about a potential meeting with Russia next month, let alone output cuts. Russia's Energy Minister Alexander Novak deflated hopes further on Friday by confirming no gathering was scheduled.
Michael Cohen, an oil analyst at Barclays Plc in New York, summarized the situation in a note to clients: "Russia and OPEC: False Hopes."
And yet, the comments from Moscow may signal that Russia, after months of insisting it was happy to keep pumping at full throttle, is open to compromise with the Organization of Petroleum Exporting Countries. Until now, the Kremlin has said a cheap ruble, which has fallen to a record low against the U.S. dollar, protected its energy industry -- and more widely, its economy -- from the worst of the oil slump.
Testing Waters
"It's possible that Russia could be testing the waters to gauge how OPEC members would respond to the idea of cuts," said Jason Bordoff, director of the Center on Global Energy Policy at Columbia University and a former senior oil official at the White House.
With oil at about $30 a barrel -- down from $100 two years ago -- Russia's Finance Ministry says the nation's budget deficit, already at a five-year high in 2015, may widen this year as the rout deepens.
Brent oil traded little changed in London at 10:50 a.m. on Friday, having earlier risen 2.8 percent.
Even if Moscow accepts discussing output cuts, significant obstacles remain in reaching agreement with OPEC. Saudi Arabia is keen to defend market share, particularly in China where it's battling with Russia head-to-head to be the largest supplier. Moreover, Russia's inability to cut production in winter months makes coordination difficult. The two countries' opposing views on Syria, where Russia is President Bashar Al-Assad's closest ally and Saudi Arabia seeks his removal, present another hurdle.
Political Relations
Russia's close relationship with Iran also poses a problem.
"Political relations between Saudi Arabia and Russia are poor, not helped by the latter's support for Iran," said Julian Jessop, head of commodities research at Capital Economics, a London-based consultant. "Even if a high-level deal could be done, it is not clear that Russia could deliver."
Talk about production cuts notwithstanding, Russia is still squeezing more oil out of its fields. The country's crude oil and condensate output is set to reach a post-Soviet record of 10.89 million barrels a day in January, up 83,000 barrels a day -- the biggest monthly increase since September 2014 -- according to Bloomberg estimates based on Energy Ministry data.
What's more, Iran is ramping up output after the lifting of nuclear sanctions. It signed a preliminary deal on Thursday with Total SA to ship crude to France. Cash-strapped OPEC countries such as Venezuela, Nigeria and Angola are unlikely to cut output as they need to sell as much oil as they can to pay their bills.
Amrita Sen, chief oil analyst at Energy Aspects, a London-based consultant, said that Riyadh would be worried that "even if an agreement was reached, other participants would fail to make the cuts they promised, leaving the Saudis cutting unilaterally."