Redstone Faces Friday Doctor's Examination Over Competency
by and
Billionaire's former girlfriend has called him incapacitated

Manuela Herzer suing to be reinstated as his health-care agent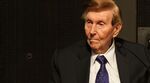 Billionaire Sumner Redstone will be examined by a doctor on Friday as part of a legal brawl brought by his former girlfriend over his mental competency.
Stephen Read, a geriatric psychiatrist retained by Manuela Herzer, the ex-girlfriend, will examine the chairman of Viacom Inc. and CBS Corp. at 11:30 a.m. local time in Beverly Hills, California, according to an e-mailed statement Thursday from her spokesman.
Herzer is seeking to be reinstated as Redstone's agent on his advance health-care directive and has said he was incompetent when he replaced her with Philippe Dauman, Viacom's chief executive officer, in October.
A California probate judge will weigh Read's findings at a Feb. 29 hearing to decide whether the former girlfriend and confidante has brought a legally sufficient case that Redstone's interests are in need of court protection and that she should be allowed to proceed with her request to be reinstated.
Redstone, 92, and his own physicians have said in court papers that he's not mentally incapacitated and that he continues to make his own health-care decisions. His lawyers have said Herzer, who was evicted from Redstone's mansion, is primarily concerned about her share of his estate.
The case is In re Advance Health Care Directive of Sumner M. Redstone, BP168725, Los Angeles County Superior Court.
Before it's here, it's on the Bloomberg Terminal.
LEARN MORE