Pemex Said Seeking to Raise $5 Billion in First 2016 Dollar Sale
by , , and
Oil producer looking to sell 3-year, 5-year and 10-year notes

Company has highest yield in emerging markets for its rating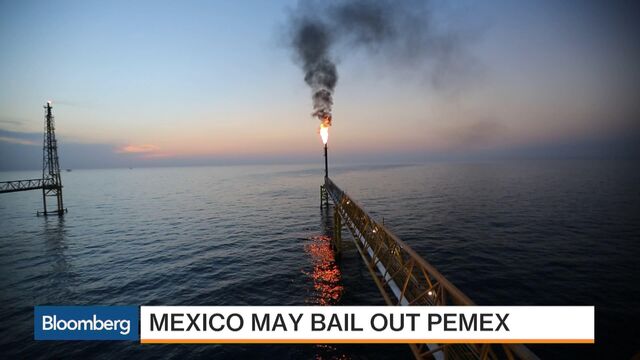 Petroleos Mexicanos plans to sell $5 billion of debt Thursday at a discount to similarly-rated peers as the oil company faces the threat of a credit-rating cut amid worsening losses.
The state-controlled crude producer is seeking to sell $750 million of three-year notes to yield 5.5 percent, $1.25 billion in five-year bonds at 6.375 percent and $3 billion in 10-year notes at 6.9 percent, according to the person familiar with the matter who isn't authorized to speak publicly and asked not to be identified. Pemex's existing debt pays the highest returns of any emerging-market company with its rating.
In an interview on Wednesday, Deputy Finance Minister Miguel Messmacher said the country may inject capital into Pemex if needed, provided the company shows it can lower costs, make better investments and forge new corporate partnerships. Messmacher spoke after Moody's Investors Service put the company under review for a possible downgrade last week citing the risk that oil prices may fall further. The Mexican mix of crude oil is trading close to the lowest since 2003.
Moody's rates Pemex Baa1, three levels above junk, and Standard & Poor's and Fitch Ratings assign it an equivalent BBB+. Bank of America Corp., Banco Bilbao Vizcaya Argentaria SA, JPMorgan Chase & Co. and Banco Santander SA are managing Thursday's sale, according to the person.
The yield on its benchmark $1.5 billion of bonds due in January 2026 climbed 0.06 percentage point to 6.49 percent as of 3:02 p.m. in New York. That's down from 7.12 percent Jan. 20, the highest since the bonds were issued a year ago.
Before it's here, it's on the Bloomberg Terminal.
LEARN MORE