New York Attorney General Proposes to Cap Resale Ticket Prices
by and
State official seeks action in wake of 1,000 percent markups

Ticket brokers use illegal 'bots' to edge out fans for tickets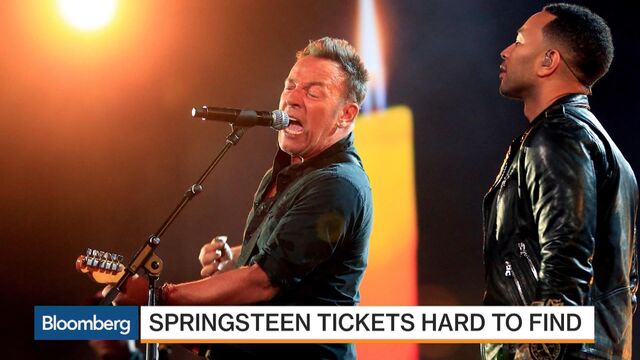 The sky shouldn't be the limit on concert and sports ticket prices.
In a report set to be unveiled Thursday, New York Attorney General Eric Schneiderman is vowing to crack down on ticket resellers and proposing that the state impose a cap on what they charge. It's part of a list of proposed overhauls to the ticket sales industry.
The report, produced as part of a three-year-probe, details how some practices in the market vastly reduce the number of tickets available to the public at face-value prices.
One problem highlighted by the state official: Ticket resale brokers often use software tools, or "bots," to harvest hundreds of tickets within minutes of their availability, then post them on sites like EBay Inc.'s StubHub.com, sometimes at markups of more than 1,000 percent.
The bots are illegal in New York. Schneiderman will propose strengthening that law by adding criminal penalties to have a greater "deterrent effect on this conduct," according to the report.
Reasonable Markups
The report doesn't say what markups on tickets should be limited to, only that they should be "reasonable."
Previously, New York capped markups resellers could charge. Those restrictions were removed in 2007 as part of a bid to encourage a free market in ticket sales and easier selling on the Internet. Changes in technology allowed the resale market to flourish but created new problems for fans, Schneiderman said.
"Unfortunately, competition-driven savings intended to benefit fans have instead been converted to profits for a handful of savvy middlemen," Schneiderman said in the report.
It'd be tough to impose caps on markups, said TicketNetwork Inc. founder and Chief Executive Officer Don Vaccaro.
Face Value
"If brokers, in order to obtain tickets, have to pay a lot more than face value, what do you mark up on?" he asked. "The idea of a face value of a ticket is going away very quickly."
In wake of the probe, resellers are finding themselves in the state official's cross-hairs. Two New York resellers of tickets to concerts and sporting events, Extra Base Tickets LLC and MSMSS LLC, agreed to pay $145,000 in penalties because they weren't properly licensed, according to settlements also set to be announced Thursday.
Jesse Lawrence, founder and CEO of aggregator TiqIQ, said he agrees with the findings in Schneiderman's report. He added that the high-demand events outlined by the attorney general constitute only about 10 percent of the industry total. Nationally, ticket reselling is a $5 billion a year business, Billboard Magazine said in 2014.
"That level of transparency is also important throughout the whole market," Lawrence said in a telephone interview. "If we can get to transparency in a more meaningful way, that's great for the consumer."
Lawrence said he was unsure whether Schneiderman's proposal for resale price caps would work.
"Historically it has proved incredibly difficult to constrain free trade," he said. "In the ticket market, demand is driving prices and people who want to make money will find ways to make money. If it's not online, it will be a cash transaction in person."
The report follows up on an earlier probe conducted more than 15 years ago by the state, in which it found that quality seating was often allocated "on the basis of bribes and corruption at the expense of fans."
Before it's here, it's on the Bloomberg Terminal.
LEARN MORE