Michael Dell Says `Bullish on China' Even Amid Volatility
By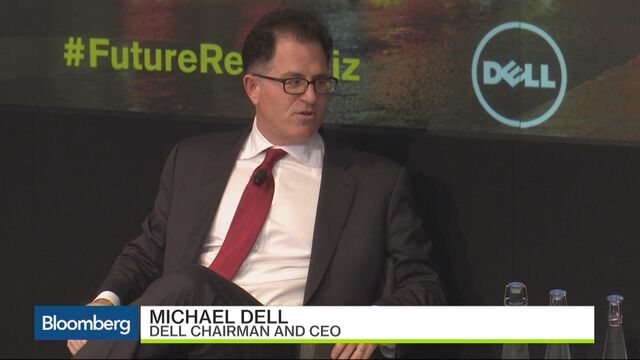 Michael Dell said he's bullish on China, even though the economy is showing signs of weaker growth and stock-market turmoil has wiped out $1.8 trillion in wealth.
Dell, founder and CEO of personal-computer maker Dell Inc., said China's enormous population and use of technology is making it an attractive place to sell Dell's products. The country is Dell's second-largest market outside of the U.S. Last year, the maker of PCs, software and data-center equipment announced it was expanding in China by linking up with the Chinese Academy of Sciences to create an artificial intelligence lab.
"While there's volatility, fluctuations, et cetera, long term, I'm quite positive on China," Dell said in an interview at Bloomberg's headquarters in New York.
Dell also signed a strategic partnership agreement with Kingsoft Corp. of Beijing to co-develop and sell products for big data and cloud computing. Dell is also planning to invest $125 billion with Chinese suppliers over the next five years. While the global PC market has been shrinking and prices have reached record lows, Dell said margins have remained stable even as prices have come down because the cost of materials continues to decline.