Merkel Defuses Threat to Chancellorship With Refugees Deal
by
Plan restricts family reunions, expands safe countries' list

Merkel approval ratings slid after New Year's Eve assaults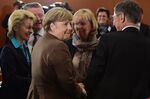 German Chancellor Angela Merkel reached a deal with her coalition partners to manage the flood of refugees into Germany, defusing -- for now -- a row that had threatened her chancellorship.
QuickTake Europe's Refugee Crisis
While the plan agreed on Thursday would ease deportations and restrict family reunions, the test for Merkel is whether the measures will reduce the country's biggest influx of asylum seekers since World War II and boost support for her Christian Democratic Union, which is at the lowest levels since Germany's last election in 2013.
"I feel fortified following the results of today," Merkel said at a press conference in Berlin. "We are getting a lot of things accomplished."
With public backing for the chancellor's open-door policy waning and Germany's European partners reluctant to help deal with the crisis, Merkel was under growing pressure to resolve a political brawl in her three-party coalition that intensified after New Year's Eve sexual assaults on women centered in Cologne. Looming over Thursday's meeting at the chancellery in Berlin was a threat by the Christian Social Union, the CDU's Bavarian sister party, to challenge Merkel's policy in Germany's constitutional court.
The deal, meant to reduce the inflow of asylum seekers after more than 1 million poured in last year, expands the list of countries deemed safe for refugees to return to and bars families of some refugees from joining them in Germany for two years, Vice Chancellor Sigmar Gabriel, who heads the Social Democratic Party, said in Berlin.
Merkel, Gabriel and Bavarian Premier Horst Seehofer, who heads the CSU, hammered out the deal after weeks of feuding over how to handle the influx as Merkel seeks to defend passport-free travel and commerce in the European Union. The three leaders now have to sell the agreement to their constituencies in order to get it through parliament.
Lawsuit Threat
Bavaria's threat of suing Merkel's government prompted the first public warning by a senior politician that the coalition could collapse. Thomas Oppermann, the Social Democrats' leader in parliament, accused Seehofer on Tuesday of seeking to break up the coalition, suggesting the CDU and SPD, Merkel's junior partner, had enough seats to govern without the CSU.
The agreement announced Thursday widens the list of so-called safe countries to include Morocco, Tunisia and Algeria.
"We want to integrate those who look like they will be allowed to stay, but we will need to send home those who don't look like they'll be able to remain," Merkel said.
The chancellor won renewed public support Thursday from her finance minister, Wolfgang Schaeuble, who ruled out a cap on migration and tightening Germany's borders.
"It's going slowly, that's true, but the chancellor is working tirelessly," Schaeuble told the Stuttgarter Zeitung newspaper in an interview. "I support her in this with everything I have."
Seehofer, who governs the state where the vast majority of refugees enter Germany from Austria, has become Merkel's chief antagonist. While Merkel insists on the country's moral and legal obligation to shelter refugees and a broader European Union plan, Seehofer has called for a cap on migration -- and threatened the legal challenge if Merkel doesn't change course.
Germany's stance is under growing pressure from other EU countries that are seeking to limit migration, such as Sweden and Austria.
In Sweden, which has tightened border controls as the country struggles with the influx, the government said Thursday that it may reject almost half of the 163,000 asylum seekers who entered the country last year. The Swedish Migration Agency will examine ways to return migrants either to their home countries or the European country where they first arrived.
Watch Next: Angela Merkel in Three Minutes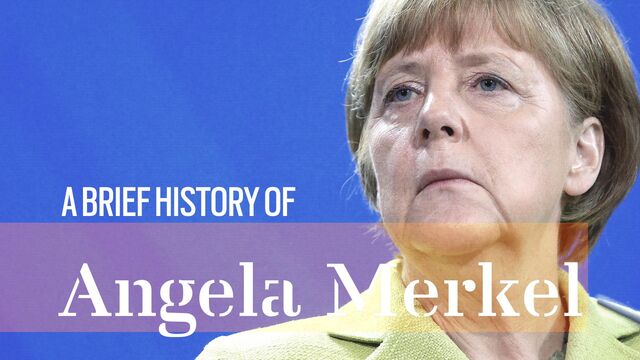 Before it's here, it's on the Bloomberg Terminal.
LEARN MORE