Japan's Economy Minister Amari to Resign Over Graft Scandal
by and
Amari a champion of Abe's economic policies since 2012

Article alleges he took cash from company for political favors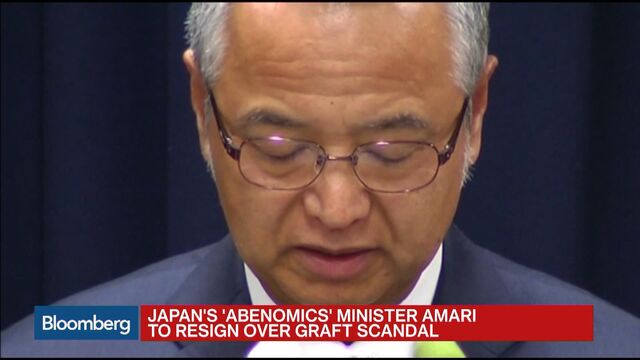 Japanese Economy Minister Akira Amari resigned after a week fending off allegations he received money in return for favors.
A tearful Amari apologized for the scandal, saying it had caused embarrassment. He added any cash received by his office was a political donation but he had to take responsibility for what happened on his watch. He said his secretary had also resigned.
"I decided to resign my cabinet position today in consideration of my responsibility to oversee my secretary as a national lawmaker, my duty as a minister, and my pride as a politician," Amari, 66, told reporters in Tokyo. Nobuteru Ishihara, a former secretary general of Prime Minister Shinzo Abe's Liberal Democratic Party, will replace him, national broadcaster NHK reported.
Amari is the most influential minister to step down since Abe took office in December 2012. He was Japan's point man in the Trans-Pacific Partnership regional trade talks, and spearheaded Abe's strategy to boost the nation's competitiveness, known as "Abenomics." The announcement prompted a brief rise in the yen before it settled little changed at 118.71 against the dollar as of 6:19 p.m. in Tokyo.
Abenomics Risk
"The resignation of one of the leading members in the Abe cabinet hurts the policy implementation capacity of Abenomics," said Minori Uchida, head of global markets research at Bank of Tokyo-Mitsubishi UFJ Ltd. "It may be a reason to buy the yen and sell stocks."
With the yen strengthening to a one-year high last week, and exports falling faster than expected in December, the resignation comes at a key time for Abenomics, which is aimed at pulling the world's third-largest economy out of deflation. The loss of Amari may also prove a headache for Abe in the run-up to elections in parliament's upper house this summer.
"In order to escape deflation and build a strong economy, we need to pass the budget and related important bills as soon as possible," Amari said. "We need to remove any impediments to that and I am no exception."
Amari was responding to an article published in the weekly Shukan Bunshun magazine last week that said he and his staff took money from an unidentified Chiba prefecture-based construction company in an alleged violation of a political funding law. The payments amounted to at least 12 million yen (about $101,000).
A follow-up piece on Thursday said Amari twice pocketed envelopes containing 500,000 yen in cash. Further unrecorded payments were made, bringing the total to tens of millions of yen, the magazine said.
Secretary Resigns
During the briefing, Amari said he had no recollection of taking cash. He said his secretary had given testimony that money was received by his office and dealt with as a political donation. The secretary, who had spent 3 million yen of the funds, had acknowledged taking money, he said.
Amari is the fourth cabinet member to resign over allegations of financial impropriety. None were as important to Abe as his economy minister, who completed tough negotiations with the U.S. over the TPP trade deal even after battling cancer of the tongue. Amari had been expected to travel to New Zealand for the signing of the pact by the 12 countries involved on Feb. 4.

"It's a minus rather than a plus," said Masaki Kuwahara, an economist at Nomura Securities Co. in Tokyo. "He's said his job is Abenomics and his presence was important for the original three arrows of the plan, especially the growth strategy. He will leave a big hole."
While Abe recovered from previous resignations to win a snap general election by a landslide in December 2014, a series of scandal-linked resignations contributed to the unraveling of his first administration in 2007 after less than a year.
"I worked without sleep or rest," Amari said. "After Prime Minister Abe put my self at the helm of Abenomics, I put my life on the line for my national duty over the past three years."
(
Corrects name of economist in paragraph under Topix chart.
)
Before it's here, it's on the Bloomberg Terminal.
LEARN MORE