benchmark
Is the Outlook for Developing Nations Darkened by a Robot Future?
Automation could be bad news for countries banking on factory jobs
By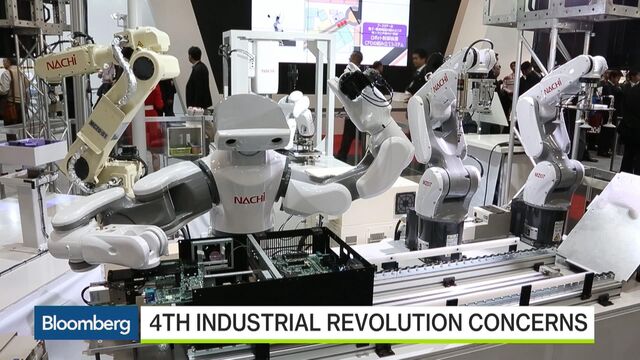 Computers might be coming for lower-skilled jobs — and that spells trouble for the growth outlook in developing nations.

QuickTake Artificial Intelligence

The share of jobs that could be automated in developing countries ranges from 55 percent in Uzbekistan to 85 percent in Ethiopia. The poorer countries have a higher potential for technology upgrades and adoption than most advanced economies, based on World Bank research that features in a new study from Citi and the Oxford Martin School.  

That substantial threat of automation could make building a manufacturing base on the back of comparatively cheap labor a less viable path toward development, according to the report from the U.S-based bank and the school, a research and policy branch of the University of Oxford. 

Among Organization for Economic Co-operation and Development members, an average of 57 percent of jobs could be computerized, and many developing nations have much higher automation potential. The 15 with the largest portion of jobs at risk are pictured in the graphic below.

The share of jobs at risk is particularly high in the developing world because poor countries have been slower to take up expensive existing technologies -- leaving more of their jobs unskilled or low-skilled, and thus susceptible to computerization if sufficient capital is in place.
"Increased automation in low-wage countries, which have traditionally attracted manufacturing firms, could see them lose their cost advantage and potentially lose their ability of achieving rapid economic growth by shifting workers to factory jobs," according to the report. The study calls the shift away from labor-intensive production "premature deindustrialization."

Countries like China, where 77 percent of jobs are in danger, may embrace computer-based production — the world's second-largest economy has already replaced the U.S. as the largest market for industrial automation, Citi and the Oxford Martin School found. Other nations may simply see declines in manufacturing output as consuming countries move off-shored jobs back home. 
 "Recent developments in robotics and additive manufacturing now allow firms in advanced economies to locate production closer to domestic markets in automated factories," the report states. That contrasts with prior waves of technological innovation, which improved trade processes and international communication and saw manufacturing jobs shift offshore in search of cheap labor. 

Automation means it will be difficult for African and South American manufacturing firms to create as many jobs as Asian companies have, according to the report, and "in the absence of export-led manufacturing growth as a path to prosperity, developing countries will need to search for new growth models."

The study, released Wednesday, comes on the heels of the World Economic Forum's annual meeting in Davos, Switzerland, which was this year themed around "Mastering the Fourth Industrial Revolution" and at which HUBO,  an adult-sized automaton that can climb stairs and enter and exit a car, was a star attraction.
While much research on the newest wave of industrialization focuses on the future growth path of developed nations, the new report underlines an important point: robots and algorithms will have repercussions that touch Addis Ababa and Beijing, not just San Francisco and London. 
(
"For more economic analysis, see Benchmark"
)
Before it's here, it's on the Bloomberg Terminal.
LEARN MORE