Pay Hike
Iowa Fast-Food Workers Seeking $15 Wage to Strike Ahead of Republican Debate
The Fight for $15 campaign is helping to organize the protest, the first of its kind in the state.
By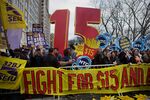 On the day of the final Republican debate before the pivotal Iowa caucus, fast-food workers will be staging their first-ever strike in the state, demanding a $15-per-hour minimum wage and union rights.
"Forty-eight percent of workers in Iowa are paid less than $15 an hour," Kendall Fells, national organizing director of the Fight for $15 movement, told Bloomberg Politics. "That's one of the highest shares in any of the country, so it's an ideal place to be organizing."
The one-day strike, which seeks to gain media attention by being held the same day as the Republican debate, aims to win a $15 minimum wage and the right to form a union without retaliation for fast-food and other low-wage workers across the country, Fells said.         
The bulk of the Republican candidates consider the group's demand for a wage that more than doubles the federal minimum wage—currently $7.25 an hour—as too radical. But in recent years, Seattle, San Francisco, Los Angeles, and several other cities have voted to adopt a $15 minimum wage.
The Democratic Party, meanwhile, has added a $15 hourly national minimum wage to its national platform. Democratic Minority Leader Nancy Pelosi and Democratic senators including Elizabeth Warren, Chuck Schumer, and Kirsten Gillibrand have voiced support for the movement.
And last November—three years after the campaign's launch, in New York—New York Governor Andrew Cuomo announced that he would raise the minimum wage for all New York state workers to $15. (This only eight months after he had called fast-food workers' identical demand "too high," and named $10.50 as a reasonable alternative.)
The same autumn Tuesday as Cuomo's announcement, Fight for $15 staged rallies in 270 cities across the country; one was joined by Democratic presidential candidate Bernie Sanders, who has called to raise the federal minimum wage to $15 an hour:
Also that day was the fourth Republican debate, hosted by Fox Business, in Milwaukee, Wisconsin. In his first question, co-moderator Neil Cavuto referenced the picketers gathered "just outside and across the country [demanding] an immediate hike in the minimum wage to $15 an hour," and went on to ask Donald Trump and Ben Carson whether they were sympathetic to the protesters demands. They were not. 
"We have to leave it the way it is," Trump blared.
With Thursday's demonstration, the Fight for $15 again hopes to affect the debate conversation.
"Look, the election is going to be decided on income inequality," the organizer Fells said. "I think that's pretty clear and these workers are in the drivers' seat of this movement."
He added, "There are 64 million workers in this country who make less than $15 an hour—many of whom don't vote. These workers are not concerned about whether you're a Republican or a Democrat but your support on this issue."
President Barack Obama has not voiced support for a $15 minimum wage. In his State of the Union address in 2013, Obama called to raise the federal minimum wage to $9 an hour; more recently he voiced support for a measure that would lift the minimum wage to $12 by 2020. Hillary Clinton has used a similar strategy. Her campaign website carefully notes that "She has supported raising the federal minimum wage to $12," then shouts out worker efforts, including the Fight for 15. 
Early Thursday morning, approximately 1,000 low-wage workers—largely cooks and cashiers from fast-food chains including McDonald's, Wendy's, Burger King, and Long John Silvers—will gather at a Des Moines McDonald's, on Euclid Avenue, to begin the strike. They will gather again at noon at another McDonald's. In the evening, a group including child-care and home-care workers will march to the Iowa Events Center, in advance of the Republican debate.
Among the workers marching and rallying will be Angelica Serrano, a 45-year-old woman born in Guanajuato, Mexico, who has has been an employee at a Des Moines McDonald's for 17 years. When she began, she was making $6.50; now she's making $9.90 an hour. "It's an injustice what they're doing to fast-food workers and McDonald's workers," she said in Spanish, through an interpreter.
Serrano is a mother of three and a grandmother of one."I know that fast-food corporations like McDonald's make billions of dollars every year while the workers, we don't make enough to make ends meet and pay the bills that we need to pay." She has never voted and never caucused before, but she says she will be doing so this year.