In Europe, Traders See Epidemic of Volatility Just Starting
by
Volume of volatility futures jumps to second-most on record

Outside factors outweigh ECB, Stoxx 600 falls 7% this month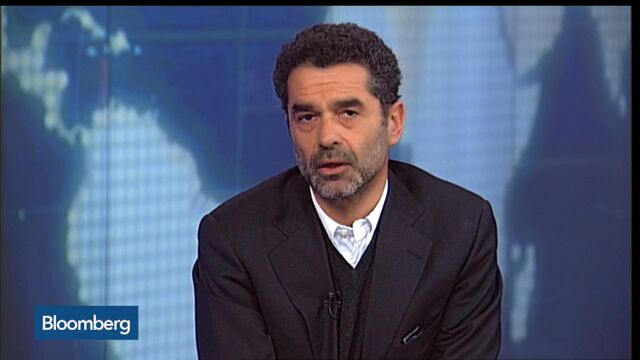 As European stocks end the worst January since 2008, few investors are breathing sighs of relief. Quite the opposite: they're preparing for it to get worse.
Plunging oil prices, diverging central-bank policies and China's economic slowdown have made them nervous. A gauge of market stress, the VStoxx Index, is set for its biggest jump since August, with a near-record crush of futures trading amounting to bets that volatility will persist. In the U.S., investors are withdrawing money from exchange-traded products wagering on increased stock swings.

"Volatility is here to stay for a long, long time," said Guillermo Hernandez Sampere, head of trading at MPPM EK in Eppstein, Germany. He increased his cash allocation after this year's turbulence. "We have enough issues coming up in Europe to pour some oil on the fire, but they just add up to China and Federal Reserve problems."
The divergence in trading is occurring in markets where going only by the involvement of central banks, the opposite might be expected. Faced with concern over global growth and correlation between stocks and oil, European Central Bank President Mario Draghi has hinted at more stimulus. Meanwhile, the Federal Reserve carried out its first interest-rate increase last month and is threatening more in 2016.
Even so, two of the most popular securities tracking moves in the Chicago Board Options Exchange Volatility Index had outflows amounting to more than $700 million in January.
Not that the U.S. has been calm: more than $2 trillion were erased from equity prices during the first weeks of 2016, and trading in VIX futures has also increased. Around the world, investors have raised cash levels to 5.4 percent, the third-highest reading since 2009, according to a Bank of America Corp. report this month.
European stocks have been particularly hit in January, with the Stoxx Europe 600 Index falling 7 percent and entering a bear market. Analysts have slashed estimates for 2016 profit growth at its companies to 4 percent from almost 7 percent at the start of last month. As the VStoxx jumped 25 percent through Wednesday, the number of its futures changing hands each day climbed to more than 39,000, up 35 percent from December and the most since October 2014. The index of stock swings rose another 7.4 percent on Thursday.
But looking at Europe's economy, things are not so bad, according to Ion-Marc Valahu, co-founder and fund manager at Clairinvest in Geneva. Recent unemployment data beat projections, and economic confidence is near the highest it's been since 2011. Valahu says the selloff in European equities is exaggerated.
"If we see lots of bankruptcies, then we'll get a bad second half, but I don't see that coming," he said. "It all depends on the economic numbers, and they haven't been that bad. There's no recession in sight yet."
Still, with a market so vulnerable to outside factors, European equities are poised to remain volatile, according to Christian Zogg, head of equity and fixed income at LLB Asset Management.
"This is not a European problem, that's why the market isn't strongly reacting to ECB talks," he said from Vaduz, Liechtenstein. "We're not going back to the low volatility we had in 2014."
Before it's here, it's on the Bloomberg Terminal.
LEARN MORE