technology
Here's What Executives Say About Dealing With China's Slowdown
By and
Apple's Cook doesn't `subscribe to the doom and gloom'

CA's Gregoire sees future for credit cards, insurance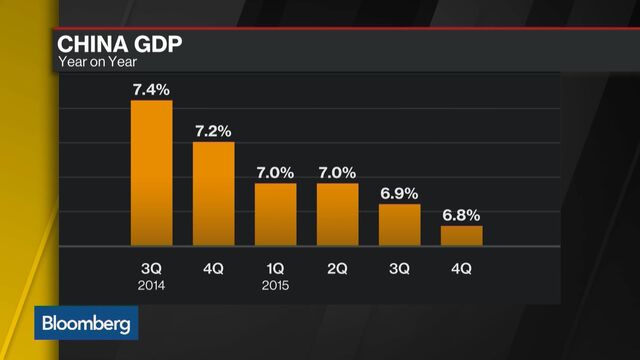 Executives are being peppered with questions on China's slowing economic expansion, which has helped lift revenues for multinational companies for two decades. These comments were collected by Bloomberg from earnings calls, meetings and conferences this month.

Rick Goings, chairman and chief executive officer, Tupperware Brands Corp.:
"If I was selling cars, I might be concerned."
"We are in good shape there. Something important to take into consideration is our product category. Maslow's hierarchy of needs: food, clothing, shelter. We are pretty much right at that core level, so we are able to buttress a lot of external forces there, just because it's a basic need." (Jan. 27)

Jeff Immelt, CEO, General Electric Co.:
"The first thing I'd say: There's no one China, right. I don't think macro anymore when I talk about China. I think micro. I think about aviation, health care, power, mining. That's how, I think, everybody has got to start thinking about China." (Jan. 22)

Howard Schultz, CEO, Starbucks Corp.:
"I strongly believe that the Chinese government's commitment to true economic reform is genuine and that its goal of doubling 2010 per capita income by 2021, resulting in a middle class in China approaching 600 million Chinese people -- or almost twice the size of the entire current U.S. population -- is attainable." (Jan. 21)

Tim Cook, CEO, Apple Inc.:
"Obviously we've got product things in mind and are crafting our products and services with China heavily in mind. We remain very bullish on China, and don't subscribe to the doom and gloom kind of predictions frankly." (Jan. 26)
Michael Gregoire, CEO, CA Inc.:
"China, as they move into a consumer-oriented economy from an export economy, they're going to want to have all the things that you would expect a G20 nation to have. They're going to want to have credit cards. They're going to want to have insurance. They're going to want to have cars. They're going to want to have electronic devices. All of that commerce is going to be built on the application economy as well. So I feel like we're very well-positioned strategically in macro in order to make that happen." (Jan. 26)
Anil Kumar Gupta, chairman and managing director, Container Corp. of India:
"The environment continues to be pretty bad."
"Imports continue to be down, I do not know what is the issue in detail, but we keep on hearing that the labor costs in China have gone up, eroded the competitiveness of Chinese exports. The result is there for everybody to see, exports have not taken off. Every month we are hearing that now the tide will turn, but it's not happening this year." (Jan. 27)
David Epstein, head of pharmaceuticals, Novartis AG:
"China is putting in place a number of reforms across sectors but, in particular, in health care in order to both control spending and to expand access to medicines across their population. So there are positives and negatives." (Jan. 27)
Greg Hayes, CEO, United Technologies Corp.:
"China will be down for 2016, but let's keep China in perspective. While it's certainly experiencing some challenges as it grapples with reform and re-balances its economy from an industrial growth story to a consumer consumption economy, its long-term growth prospects remain strong." (Jan. 27)
Andre Hoffman, managing director for Asia Pacific, L'Occitane International SA:
"E-commerce business still remains very, very strong, but our department store and shopping malls remain -- traffic remains very soft." (Jan. 26)
John Laurens, head of global transaction services, DBS Group Holdings Ltd.:
"With the liberalization and development of China's financial markets, the opportunities to the securities business will clearly grow, and the interplay between China and Hong Kong Stock Connect being one example." (Jan. 27)
Ted Crandall, chief financial officer, Rockwell Automation Inc.:
"In the key emerging markets, particularly China and Brazil, we're not seeing any evidence of, or catalyst for, meaningful improvements in the near term." (Jan. 27)
Mark Rohr, chairman and CEO, Celanese Corp.:
"When I see the construction underway and I see the consumer appetite, which we're enjoying a lot of success with, I think China is not as bad – in as bad a situation as everybody proposes it to be."
"I think it's going to be a, in some ways, a slow year in China, but I don't think it's going to be a continued deterioration in China." (Jan. 22)
Jon Moeller, CFO, Procter & Gamble Inc.:
"Our view on China is an opportunistic one, not a pessimistic one. We really think that there is significant continued opportunity there, both top and bottom line." (Jan. 26)
Before it's here, it's on the Bloomberg Terminal.
LEARN MORE