Glencore Said to Store Oil at Sea Off Singapore in Contango Bet
by
Company storing supply in at least 4 very large crude carriers

Prompt cargoes currently cheaper than those for later delivery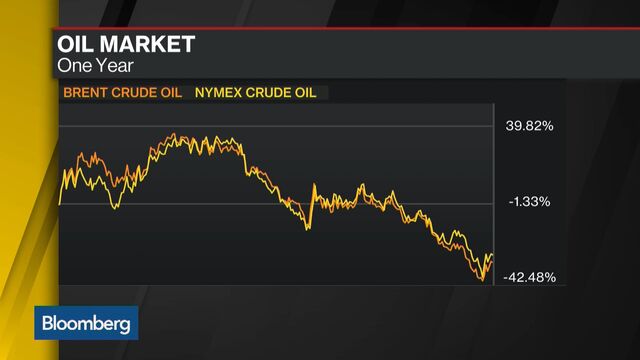 Glencore Plc is said to be storing oil on ships off the coast of Singapore and Malaysia as a market structure known as contango allows traders to benefit from holding on to supplies for sale later.
The commodities trader has at least 4 very large crude carriers, each of which can hold about 2 million barrels, floating at sea off the nations' coast in Southeast Asia, people with knowledge of the matter said, asking not to be identified because the information is confidential. When a market is in contango, prices for supplies today are lower than those in future months, allowing traders with access to stored crude to potentially lock in a profit.

Charles Watenphul, a spokesman for Glencore, declined to comment.
While the oil market has been in contango since 2014, the premium fetched by future cargoes increased to the highest since February last month. The price difference between a Brent oil contract for immediate delivery and a year forward is at about minus $7 a barrel, twice the level in mid-July.
"Traders will be closely watching the contango structure to determine whether to use more vessels for crude floating storage," said Tushar Tarun Bansal, an analyst in Singapore at industry consultant FGE. "The Brent contango structure just about covers the cost to time-charter a vessel for floating storage, though we also need to consider added costs such as from financing."
To benefit from the contango, profits from selling a stored cargo must exceed the cost of chartering ships to hold the supply. Euronav NV, Europe's largest owner of supertankers, would charge about 75 cents per barrel each month for storing, its chief executive officer said on Thursday. Brent crude for April costs about 90 cents more than for March, data from ICE Futures Europe show. Traders incur additional expenses over and above freight.
Storing crude on ships is close to being viable, Fearnleys A/S analyst Jonathan Staubo said by phone on Thursday. The 3-month contango needs to be about $2.70 to cover the cost of hiring ships and other expenses associated with storing barrels at sea profitably, he said. That spread is currently at about $2.50 for Brent.
Floating storage increases Glencore's ability to supply cargoes on short notice or load oil on smaller vessels for sale to Chinese refineries and other Asian buyers who don't have access to ports that can accommodate larger ships, the people said.
Before it's here, it's on the Bloomberg Terminal.
LEARN MORE