Fortescue Welcomes Signs of Supply Discipline in Iron Market
by
Company doesn't plan to continue allocating capital in market

Message on supply side has been fairly consistent, Pearce says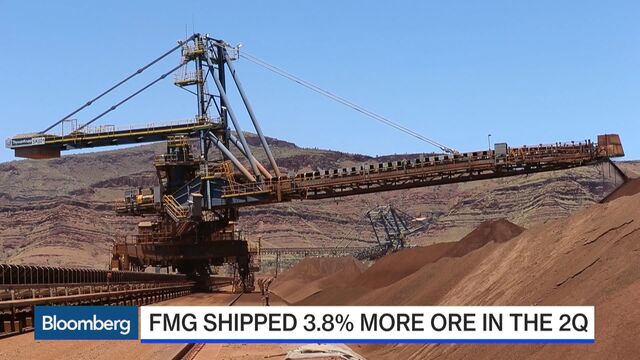 Fortescue Metals Group Ltd., the world's fourth-biggest iron ore producer, is "pleased" that rivals are taking heed of calls to slow supply growth that has contributed to a slump in global prices.
"It's good to see some better discipline coming in on the supply side," Chief Financial Officer Stephen Pearce said in a phone interview from Perth. "Our messaging has been fairly consistent for some time: we don't intend to continue to allocate capital in the current market. We're pleased that message seems to be broadly accepted."
Iron ore has collapsed to less than a quarter of its 2011 peak as producers including Rio Tinto Group and Brazil's Vale SA increased supply amid concern that China's economic slowdown would undermine demand. Fortescue Chairman Andrew Forrest began agitating last year for the top miners to limit output to boost prices, saying they had committed "market vandalism" by overproducing. Rio, the world's second-biggest shipper, then described the claims as inconsistent and overblown.
Fortescue plans to hold volumes steady this fiscal year as it reported on Thursday increased shipments in the three months through December that exceeded analysts' estimates. Rio sees its production rising about 7 percent to 350 million tons this year, slower than the 11 percent gain in 2015. BHP has forecast its output will climb 1.7 percent in the 12 months to June 30, compared with a 14 percent jump the previous year.
Slower Pace
"It's starting to sink in that supply is part of the problem of this brave new world of low prices," said Philip Kirchlechner, director of Iron Ore Research Pty and the former marketing head at Fortescue. "Shareholders want to see capital discipline and not mindless expansions. Maybe increasing awareness of today's realities could force the turning point we've been waiting for."
London-based Rio said in an e-mailed response to questions on Thursday that it hasn't altered any of its global guidance. A spokeswoman for BHP declined to comment. The two companies have defended their strategy of raising output at a time of falling prices, saying cutting back wouldn't be in their shareholders' interest as forfeited supply would be filled by others.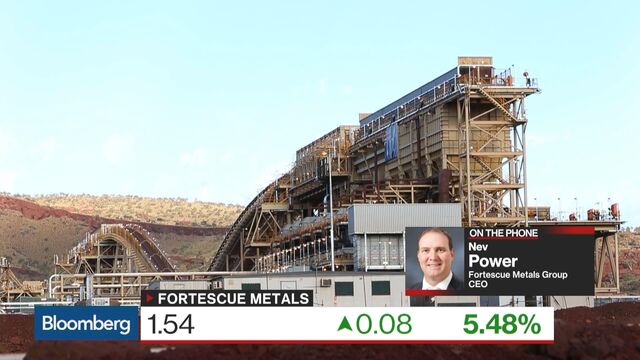 Fortescue shares rallied 14 percent to close at A$1.73 in Sydney, paring losses this year to 7.5 percent after a 32 percent slump in 2015. The stock was upgraded to outperform by Credit Suisse Group AG, which cited cost cuts and potentially higher iron ore prices in the next few months as construction activity and steel output pick up in China.
Price Slump
Ore with 62 percent content delivered to Qingdao sank 0.5 percent to $41.72 a dry ton on Friday after bottoming at $38.30 on Dec. 11, a record low in daily prices by Metal Bulletin Ltd. dating back to May 2009. Citigroup Inc. and Capital Economics Ltd. have raised the possibility of the commodity dropping into the $20s this year.
Gina Rinehart's Roy Hill mine in Western Australia, which began exporting last month, is ramping up production to 55 million tons a year, while Rio de Janeiro-based Vale expects its S11D project -- which will add 90 million tons annually -- to commence in the second half. Vale is the world's biggest exporter.
"We are seeing a slowdown in expansion and that is a positive," said Paul Gait, senior analyst at Sanford C. Bernstein Ltd. in London. "We need to see demand come back to get the market to turn and we still have Roy Hill and S11D coming. So absent a demand recovery, that will be a negative for the market."
Peak Demand
Demand for the steel-making raw material is nearing its peak, the World Bank said in a report this week which predicts that iron ore will post the biggest loss among metals this year. Low-cost supply continues to outstrip demand, the Washington-based lender said.
"Having people allocate capital sensibly is a good thing for the industry as a whole," Pearce said on Thursday. "Ultimately the market will be determined by both the supply and demand sides," he said, adding that the focus now is on consumption.
Before it's here, it's on the Bloomberg Terminal.
LEARN MORE