Ford Falls as Investors Sense 2015 Was as Good as It Gets
by
Fourth-quarter earnings per share beat analysts' estimates

Surging SUV, pickup sales drive up earnings around the world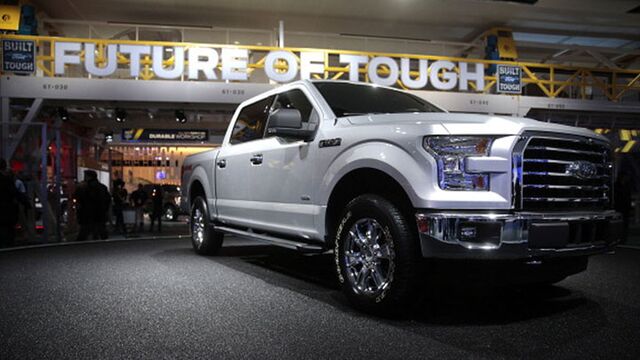 Ford Motor Co. delivered higher-than-predicted quarterly earnings to end a record-setting year. It wasn't enough to shake investors' nagging feeling that the good times may be over.
Ford shares dropped as much as 5.5 percent at one point Thursday to the lowest price since August after the company released its fourth-quarter earnings results. The stocks of Ford's traditional counterparts in Detroit, General Motors Co. and Fiat Chrysler, also fell while the broader U.S. stock market rose.

For investors, Ford's comments solidified their concern the automaker will be less profitable this year at home in North America. The company said it had a 10.2 percent margin in the region last year -- outshining the projection of 9.5 percent or better for 2016 that Chief Executive Officer Mark Fields set two weeks ago. The shares fell steadily as the boss spoke on today's conference call about headwinds such as the rising cost to introduce models like the Super Duty pickup truck.
"The vast majority of Ford's profits come from North America and the market, very abruptly, came to the conclusion that U.S. auto sales are peaking in 2016 or have already peaked," said David Whiston, a Morningstar Inc. analyst in Chicago who rates the shares the equivalent of buy with a "fair value" price of $20. "The market wants growth. If you're not growing, you're standing still or dying."
During the morning's conference call, Ford shares declined to $11.20, the lowest intraday price since Aug. 24. The stock later recovered some of the drop, closing down 1.2 percent at $11.71 in New York. The shares have fallen 17 percent this year.
Investors are probably concerned about the broader economy and overlooking the fact that U.S. auto sales are at historically high levels and will remain there through 2018, the company's chief financial officer said.
"This 'peak' concept is driving me nuts," CFO Bob Shanks said in an interview. "When I think of peak, I think of a mountain where I go up one side and down the other. We don't see signs of a peak. We think we're at a very high plateau, where we're going to make a lot of money."
Earnings Results
Ford reported quarterly profit excluding one-time items of 58 cents a share after a 65-cent loss a year earlier. That beat the 51 cent a share average of 12 analysts surveyed by Bloomberg. Aided by surging sport utility vehicle sale, Ford's annual pretax profit reached a record $10.8 billion in 2015.
"It's very frustrating," Morningstar's Whiston said. "Management can only control what they control and if they're delivering results and the Street doesn't want to reward them, then there's not much else you can do as an investor at that point, other than sell."

While overseas operations are improving, Ford's home market remains pivotal. Rising sales of high-profit SUVs and pickups, especially in the U.S., propelled the company in 2015. Ford's F-Series pickups remained the nation's top-selling vehicle line and helped the company deliver an 8.2 percent North American profit margin in the final quarter.
Automotive sales in the fourth quarter rose 12 percent to $37.9 billion. The average analyst estimate was $36.7 billion.


North American pretax profit jumped to $2.03 billion from $1.6 billion a year earlier. Ford's U.S. sales rose 5.3 percent for all of last year, while its market share fell to 14.9 percent from 15 percent, according to Autodata Corp.


Europe pretax profit was $131 million, compared with a $297 million loss. Ford's European sales rose 11 percent in 2015 to 1.3 million vehicles.


Asia-Pacific pretax quadrupled to $444 million from $95 million. Ford's 2015 sales in China grew 3 percent to 1.1 million vehicles.


"We really started to see the international operations start to come forward," Shanks told reporters Thursday. "And that is the big opportunity for Ford going forward."
While costs such as the redesign of the Super Duty pickup will weigh on margins this year, North American operating profit margin will probably continue in the 10 percent range, he said.
Whiston said a return to robust earnings in Europe should help restore investor confidence in Ford, but added that "the odds of that stock hitting $20 in 2016 are not good."
"I expect in the near term the stock is going to continue to have downward pressure," he said. "At some point the market will just wake up and say the stock is ridiculously cheap and it will bounce back up. But I don't know when that's going to happen."

The shares declined Jan. 13 after Fields told analysts late the previous day at the Detroit auto show that Ford's North American profit margin would be 9.5 percent or higher this year, possibly lower than in 2015, because of rising costs. Industrywide, U.S. auto sales reached a record 17.5 million light vehicles last year.
Fields told the analysts at the Detroit show that it may take another recession to prove to investors that Ford is a healthier company that it once was. "The market's looking to see how we do in the next downturn," he said.
Before it's here, it's on the Bloomberg Terminal.
LEARN MORE