business
Energy ETFs Draw $1 Billion as Bottom Sought in Stocks -- Again
By
Speculators, retailer investors seen driving latest inflows

Options traders show caution with cost of hedging rising
The temptation to pick a bottom in energy stocks is proving irresistible.
Undeterred by the repeated failure of bargain hunting in the last two years, investors have sent almost $1 billion this year to exchange-traded funds that invest in companies such as Exxon Mobil Corp. and Chevron Corp. The inflow makes the industry the most-favored destination of investment among 12 sectors tracked by Bloomberg and comes at a time when the broad equity market has suffered outflows.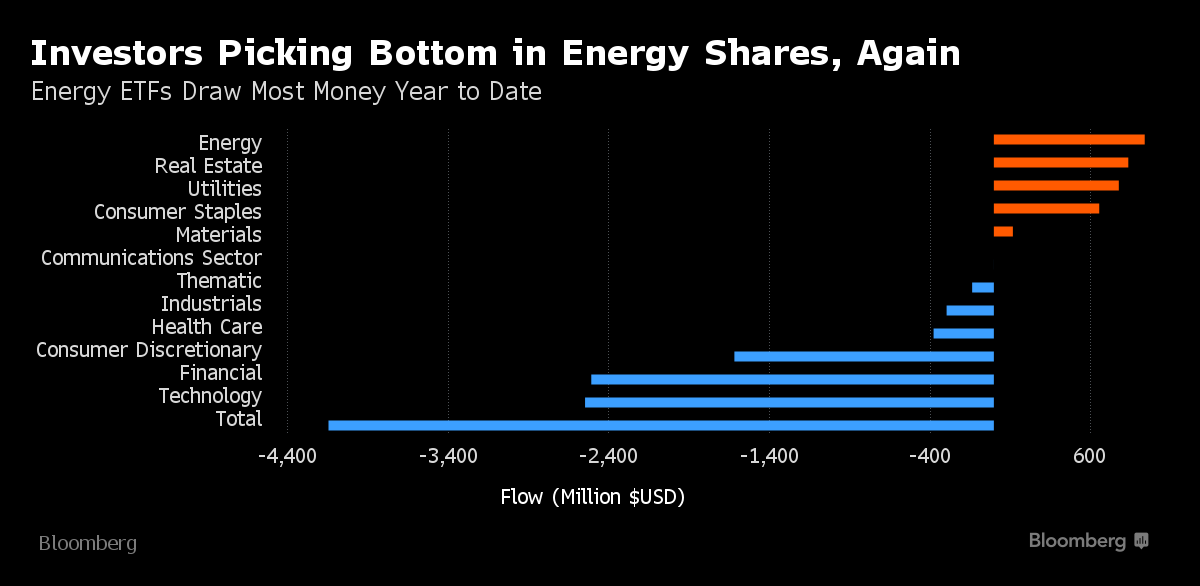 Interest is being renewed after seven quarters of declines left oil producers trading at the cheapest valuation on record. Money managers like James Abate at Centre Asset Management LLC and Ranger Alternative Management LP's Brad Lamensdorf said the buying is mostly driven by speculators and retail investors. Energy losses won't be over until waves of bankruptcies and takeovers wash out the last bull, they said.
"It's the buy the-dips mentality. People think it's a good deal relative to where it's been," Lamensdorf, a Dallas-based portfolio manager for Ranger, said by phone. "To me, the end doesn't stop until everyone is terrified."
More than $800 billion has been erased from share values in the Standard & Poor's 500 Energy Index since June 2014 as oil prices collapsed to a decade low amid rising supply and waning demand. Meanwhile, valuations are cheaper than ever. At Wednesday's close, the energy gauge traded at 1.4 times book value, the lowest in data going back to 1993.
About $940 million has been added to energy ETFs this year, compared with withdrawals of $4.1 billion for all sector funds tracked by Bloomberg. The Energy Select Sector SPDR Fund, the biggest ETF tracking the industry, accounted for more than half the inflows, attracting more than $500 million.
It's not the first time that investors have warmed up to beaten-down energy stocks. They sent more than $1 billion to the SPDR Fund in both last April and December 2014, only to see fresh lows reached in the second half of 2015.
With oil now hovering near $30 a barrel, the risk of business insolvency is increasing, according to BlackRock Inc.'s Laurence D. Fink, who said as many as 400 energy companies may not survive cheap oil.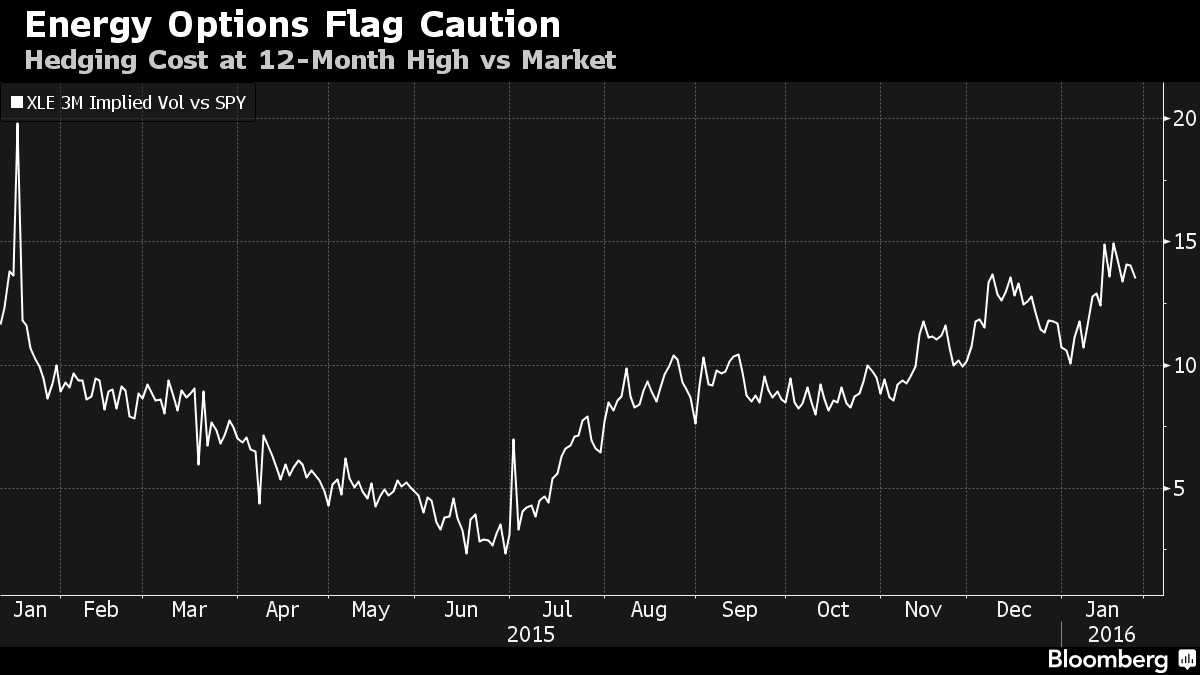 Caution signs are flashing in the options market, with the cost of protection against energy losses rising to the highest level in a year, relative to the rest of the market. Traders paid 12.9 points more to hedge for the energy ETF than for the SPDR S&P 500 ETF, according to data compiled by Bloomberg on three-month contracts with exercise prices close to current levels.
"I view energy as a whole as one that's not conducive to long-term equity investment until you see a wave of bankruptcies or restructuring," said Abate, who helps oversee $1 billion as chief investment officer at Centre Funds in New York.
— With assistance by Oliver Renick
Before it's here, it's on the Bloomberg Terminal.
LEARN MORE