Deutsche Bank Sets Aside $1.3 Billion, Mostly for Subprime Probe
by
DOJ probing how bank marketed mortgage-backed securities

Litigation cost for 2015 rose 165% to $5.7 billion vs 2014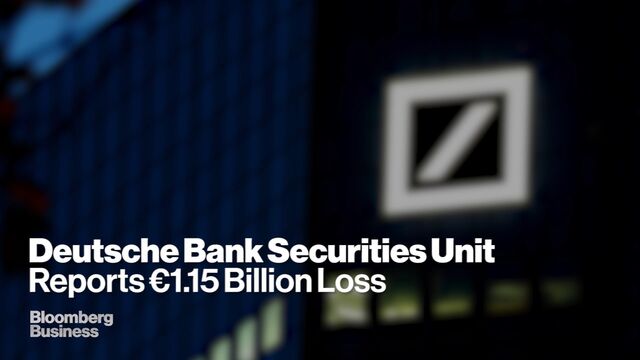 Deutsche Bank AG set aside an additional 1.2 billion euros ($1.3 billion) in the fourth quarter as it prepares to resolve a series of long-running regulatory investigations, including whether it improperly sold mortgage-backed securities to investors.
"We're working very hard on a number of cases where there are signs that we might be able to resolve them relatively soon," Chief Executive Officer John Cryan told reporters at a press conference in Frankfurt. The next two years will "be burdened with, sadly, either direct costs or more provisions," he said.

Cryan is battling multiple regulatory investigations and rising public and political opprobrium following a string of scandals including a record fine for manipulating interest rates. Authorities are still probing allegations of money laundering at the firm's Russian unit, and examining what role the bank played in the industry's manipulation of currency exchange rates and precious metals trading.
Deutsche Bank is one of several Wall Street firms being held to account by the U.S. government for creating and selling subprime mortgage bonds that helped spur the 2008 financial crisis. 
Authorities have already penalized four of the biggest U.S. banks -- JPMorgan Chase & Co., Bank of America Corp., Citigroup Inc. and Goldman Sachs Group Inc. -- more than $42 billion for misrepresenting to investors the quality of mortgage loans they securitized into risky bonds.
'Millstone'
Cryan said the various probes were "a millstone around the neck of the bank" after legal charges at Germany's largest lender more than doubled to 5.2 billion euros last year. The firm has now racked up more than 13 billion euros in legal expenses since 2008, more than any other continental European institution.
Deutsche Bank said it settled a number of regulatory investigations in the fourth quarter. In November, it agreed to pay $258 million to the Federal Reserve and New York's Department of Financial Services, as well as fire six employees, to resolve a probe into sanctions violations from 1999 to 2006 for allegedly handling transactions linked to Iran, Libya, Syria, Burma and Sudan.
The lender said in October that its review of Russian transactions had turned up violations of its internal policies and deficiencies in its anti-money laundering controls. It told investors that it had increased its litigation reserves by 1.2 billion euros, mainly to cover possible liabilities related to its Russian operation.
The firm has shut much of its Moscow operation and has taken disciplinary action against the individuals involved. In November, the bank said it would stop accepting new customers in locations with high-risk ratings while it reviews how it vets account holders.
"The main focus from my perspective was to take necessary actions to remediate and limit future conduct risk," Cryan said. "We have closed our markets business in Russia and have off-boarded a large number of clients in high-risk areas."
Before it's here, it's on the Bloomberg Terminal.
LEARN MORE