Deutsche Bank Sees Lighter Capital Hit From Trading Book Review
by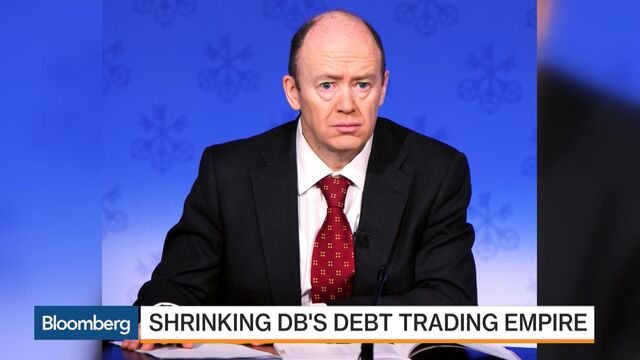 Deutsche Bank AG, which runs Europe's biggest investment bank, said new capital requirements on its trading book came in lighter than expected.
"That came out, I would say in a constructive way," Marcus Schenck, Deutsche Bank's chief financial officer, said of the Fundamental Review of the Trading Book. "There were some items which we thought were punitive which were taken out, so at the margin it's certainly better than some of the earlier drafts."
The Basel Committee on Banking Supervision, whose members include the U.S. Federal Reserve and the People's Bank of China, overhauled rules for market risk as part of its effort to avoid a repeat of the taxpayer-funded bank bailouts in the 2008 financial crisis. Bankers had criticized earlier drafts of the regulation, saying they would impose onerous capital charges and crimp their ability to lend.
Still, Deutsche Bank is sticking with its forecast for the pipeline of upcoming regulation to result in higher capital charges for the company as it assigns greater risk to its assets, according to Schenck.
Trim Assets
That means Deutsche Bank's assets weighted for risk will rise by more than 100 billion euros ($109.2 billion) through 2020, the CFO said. The company said in October that it would cut risk-weighted assets by about 120 billion euros by that date by selling a German consumer lender, winding down unwanted assets and shrinking its trading business.
Deutsche Bank's 44.1 billion euros of common equity Tier 1 capital, the purest form of loss-absorbing reserves, accounted for 11.1 percent of its 397 billion euros of risk-weighted assets at the end of December, its filings show. The Frankfurt-based lender wants to grow that ratio to at least 12.5 percent by the end of 2018.
The "biggest component" of the increase in the bank's risk-weighted assets will probably come from changes to how banks model their credit risk, Schenck said. Those pieces of regulation are "still pretty much open I would say in many dimensions in terms of where it's going to come out, but quite frankly also when it is going to come out," he said.
Before it's here, it's on the Bloomberg Terminal.
LEARN MORE