Deutsche Bank Loses Ground in Trading as Overhaul Tested
By , , and
Lender losing market share in cash equities, advisory

Slump in equities exacerbated by risk problems in derivatives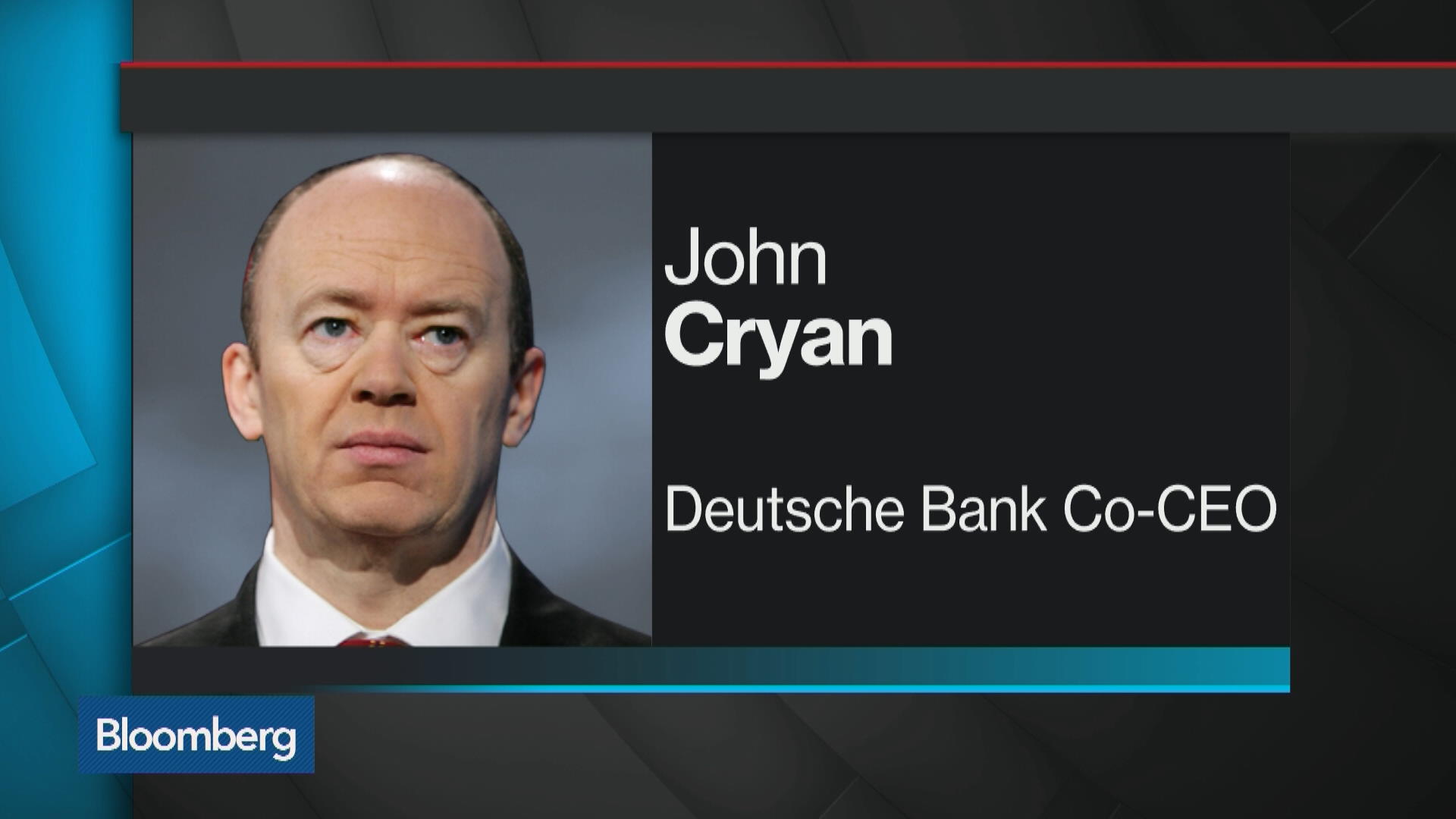 Deutsche Bank AG co-Chief Executive Officer John Cryan is losing market share in businesses he wants to expand, highlighting the risks he faces in scaling back costly debt trading.
The German lender lost ground to competitors in the trading of stocks and in advising on mergers and acquisitions in the U.S. and Europe, both businesses that Cryan, 55, has singled out as core to the investment bank. Deutsche Bank's equity-derivatives unit, which trades contracts tied to shares, fell "significantly" because of "challenging risk management," the bank said.

Cryan, who took over from former investment banker Anshu Jain in July, is seeking to reverse a slump in profitability by closing down parts of the bond-trading empire his predecessor built, shrinking the global footprint and selling a consumer banking business in Germany. Deutsche Bank's 30 percent decline in fourth-quarter investment banking and trading revenue and first full-year loss since 2008 are adding to investor concerns over the firm's ability to earn enough money to fund Cryan's overhaul and boost profitability.
"Performances like the fourth quarter do raise serious question marks about the franchise," said Jonathan Fearon, who helps manage about 300 billion pounds ($429 billion) at Standard Life Plc and who doesn't own Deutsche Bank shares. "We are definitely now in "show me" mode. That's obviously going to be the question mark and it will continue to cloud investors perception until we get an answer."
Deutsche Bank dropped 5.4 percent to 16.17 euros in Frankfurt, the lowest since February 2009.

Banks around the globe have been looking at ways to scale back their securities units amid tougher financial regulation and a slump in trading. While the last three months of the year are typically the weakest, earnings were hurt by cooling growth across emerging markets and a slump in oil prices.
The five biggest U.S. securities firms saw their combined revenue from investment banking and trading fall 4.9 percent to $24.2 billion in the fourth quarter from a year earlier, data compiled by Bloomberg show.
"I recognize that in the fourth quarter we lost some momentum in sales and trading," Cryan said on Thursday. "We've have lost some ground in equities. And we are determined to invest in our people in research and sales to recover our position."
The bank's management board members won't receive a bonus for 2015, Cryan said. The bank may cut discretionary awards for its investment bank by as much as 500 million euros ($545 million), or almost a third, people familiar said in October.
As part of his overhaul, Cryan last year announced plans to eliminate thousands of jobs and end operations in 10 countries to help reduce costs and improve return on capital. The investment bank was pushed into a fourth-quarter loss of 1.15 billion euros from a pretax profit of 323 million euros a year ago, while revenue slumped 30 percent.
'Little Inspiring'
"Deutsche Bank's official outlook for 2016 is little inspiring and confirms that it will be another difficult year," said Tomasz Grzelak, a Zurich-based analyst at Mainfirst Bank with a neutral recommendation on the shares. "Deutsche Bank will remain highly reliant on the performance of the investment banking business and worrying signals from this division further mute short-term prospects."
The bank last year appointed Garth Ritchie to run the wider trading business and pledged to invest in prime brokerage, a unit which caters to hedge funds and is a key part of the stock trading division. Deutsche Bank plans to boost spending on cash equities, which is "a place we should be" in full force, Cryan told analysts on Thursday.
Deutsche Bank's revenue from trading stocks and related securities dropped 28 percent to 520 million euros in the fourth quarter from a year earlier. At the equity-derivatives unit, "lower client activity" was "exacerbated" by risk management problems in the fourth quarter, the bank said.
"Institutional business is not coming our way in the volumes it once did," Cryan said. "We think that's attributable to unintended and slightly regretted erosion of some of our staff numbers in research and in sales." The bank also lost market share in advisory and origination, the firm said.
"It has been a disappointment," Chief Financial Officer Marcus Schenck said. "It's not a situation that we find acceptable."

Deutsche Bank's sales from advising on mergers and acquisitions -- a business singled out for growth -- fell to 116 million euros from 187 million euros a year earlier, the lender said, citing conditions in Europe and weaker deal volumes.
The company's debt trading revenue slumped 16 percent to 947 million euros in the fourth quarter from a year earlier. That compares with the 4.2 percent increase to $8.29 billion of the fixed income trading revenue pool split by the top five U.S. investment banks, data compiled by Bloomberg show.
Debt trading accounted for 46 percent, or the largest share, of the 2.08 billion euros of revenue Deutsche Bank's investment banking and trading unit earned in the fourth quarter, the company's filings show.
'Disappointing'
"The bank does seem to be doing so much worse than its peers," said Guy de Blonay, a fund manager at Jupiter Asset Management Ltd. in London. "It might suggest that the overhaul isn't going as well as planned."
Elsewhere, the division that caters to consumers as well as small and medium-sized companies posted a pretax loss of 675 million euros in the fourth quarter after an 8 million-euro profit before tax a year earlier. Transaction banking saw pretax profit surge 40 percent to 347 million euros in that period, while asset and wealth management posted a 23 percent decline in pretax profit to 274 million euros.
While Deutsche Bank's common equity Tier 1 ratio, a level of financial strength, dropped to 11.1 percent at the end of the year from 11.5 percent three months earlier, Cryan said he doesn't see a need to raise capital. His predecessor tapped investors in 2013 and 2014.
"Deutsche Bank earnings are a kind of kitchen-sinking announcement," said Benno Galliker, a trader at Luzerner Kantonalbank AG. "A positive thing is that they don't need any fresh money."
Litigation Costs
Cryan's efforts to restore investor confidence have been hurt by rising costs tied to past misconduct. Deutsche Bank has racked up more expenses for litigation and fines since the start of 2008 than any other financial firm on the continent, according to data compiled by Bloomberg. The lender earmarked 1.2 billion euros for litigation in the fourth quarter.
The lender said that 2016 will be a "peak restructuring year," taking related charges of about 1 billion euros, with litigation remaining a "burden." The company will "continue to work hard to clear up our legacy issues," Cryan said.
"Restructuring work and investment in our platform will continue throughout the year," he said in the statement. "We know that periods of restructuring can be challenging. However, I'm confident that by continuing to implement our strategy in a disciplined manner, we can and will transform Deutsche Bank into a stronger, more efficient and better run institution."