Deutsche Bank Securities Unit Reports Loss on Revenue Slump
by
Fixed income and currencies trading saw 16% revenue decline

Transaction banking only unit at group to post profit gain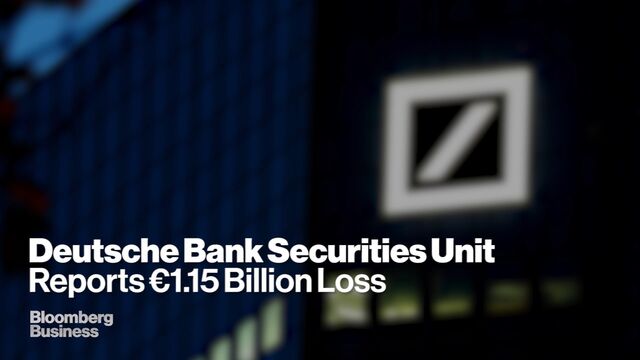 Deutsche Bank AG's securities unit posted a loss in the fourth quarter with each of the businesses reporting a slump in revenue as co-Chief Executive Officer John Cryan scales back trading activities to bolster returns.
The loss of 1.15 billion euros ($1.25 billion) in the period compares with a pretax profit of 323 million euros a year earlier, the company said on Thursday. Revenue at the corporate banking and securities unit slumped 30 percent to 2.1 billion euros, with a negative return on equity.

Cryan, 55, who took over as co-chief executive officer from Anshu Jain in July, is shrinking the debt trading empire built by his predecessor as part of a pledge to bolster capital levels and boost profitability. While the last three months of the year are typically the weakest for investment banks, his task has become even harder as the market upheaval that hit trading at the end of last year spilled into 2016 amid cooling emerging-market growth and a slump in oil prices.
"Deutsche Bank's official outlook for 2016 is little inspiring and confirms that it will be another difficult year," said Tomasz Grzelak, a Zurich-based analyst at Mainfirst Bank with a neutral recommendation on the shares. "Deutsche Bank will remain highly reliant on the performance of the investment banking business and worrying signals from this division further mute short-term prospects."
Deutsche Bank shares fell 2.1 percent to 16.76 euros at 9:05 a.m. in Frankfurt. They have dropped about 25 percent this year.
Since taking over, Cryan has pledged to boost profitability by shrinking parts of the firm's debt-trading business and selling Deutsche Postbank AG, a German consumer lender. His predecessor tapped investors in 2013 and 2014 to increase capital levels and fund growth, angering some shareholders.
Cryan said on a call with analysts on Thursday that he doesn't see a need to raise capital.

Deutsche Bank posted a net loss of 6.8 billion euros for 2015, its first annual shortfall since 2008, after a profit of 1.7 billion euros in 2014 as it wrote down the value of the investment banking and consumer banking units and set aside money for litigation. The lender's common equity Tier 1 ratio, a measure of financial strength, was at 11.1 percent at the end of 2015, down from 11.5 percent at the end of September.
At the investment bank, which generates most of the revenue, legal costs rose to 335 million euros in the fourth quarter from 42 million euros a year earlier. Debt and currency trading, the division's biggest source of income, declined 16 percent to 947 million euros.
'Market Challenges'
Trading in residential mortgage-backed securities was "significantly lower" in the fourth quarter from a year earlier because of "ongoing market challenges," while revenue from trading equity-derivatives was hurt by "lower client activity exacerbated by challenging risk management in certain areas," Deutsche Bank said.
The five biggest U.S. securities firms saw their combined revenue from investment banking and trading fall 4.9 percent to $24.2 billion in the fourth quarter from a year earlier, data compiled by Bloomberg show.
Deutsche Bank is "absolutely OK" with how the company's fixed income and currencies trading unit is faring and the division's rates and foreign exchange businesses have done well so far this year, Chief Financial Officer Marcus Schenck said on a conference call.
Elsewhere, the division that caters to consumers as well as small and medium-sized companies posted a pretax loss of 675 million euros in the fourth quarter after an 8 million-euro profit before tax in the year earlier period following restructuring charges.
Transaction banking saw pretax profit surge 40 percent to 347 million euros in that period, while asset and wealth management posted a 23 percent decline in pretax profit to 274 million euros.
Litigation Costs
"In fairness to John Cryan, he signaled that re-orientating the investment bank will have a revenue impact so we shouldn't be too surprised about that," said Neil Smith, an analyst at Bankhaus Lampe with a buy recommendation on the shares.
Cryan's efforts to restore investor confidence have been hurt by rising costs tied to past misconduct. Deutsche Bank has racked up more expenses for litigation and fines since the start of 2008 than any other financial firm on the Continent, according to data compiled by Bloomberg. The lender earmarked 1.2 billion euros for litigation in the fourth quarter.
Deutsche Bank is the target of several regulatory probes into alleged misconduct. The U.S. Department of Justice and the U.K. Financial Conduct Authority have been looking into so-called "mirror trades" originating from its Moscow office. The Justice Department has also been examining what role the bank played in the industry's manipulation of currency exchange rates and precious metals trading. And Deutsche Bank has itself said it's cooperating with a U.S. probe of mortgage-backed securities.
The lender said that 2016 will be a "peak restructuring year," taking related charges of about 1 billion euros, with litigation remaining a "burden." The company will "continue to work hard to clear up our legacy issues," Cryan said in the statement.
"Restructuring work and investment in our platform will continue throughout the year," he said in the statement. "We know that periods of restructuring can be challenging. However, I'm confident that by continuing to implement our strategy in a disciplined manner, we can and will transform Deutsche Bank into a stronger, more efficient and better run institution."
Before it's here, it's on the Bloomberg Terminal.
LEARN MORE