Deutsche Bank Board Members Won't Get 2015 Bonuses, Cryan Says
by and
Cryan hopes staff won't find bonus cuts ``too demotivating''

Cryan says bank does not `fear' becoming takeover target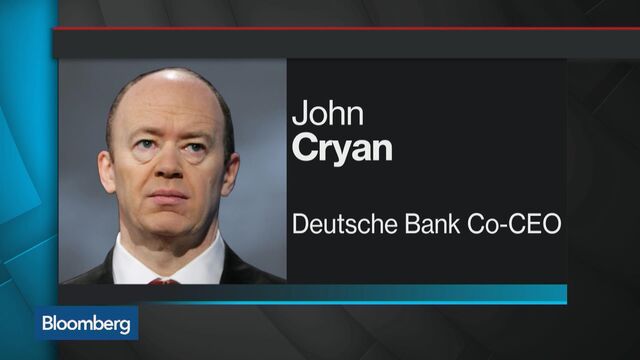 Deutsche Bank AG is scrapping 2015 bonuses for its 10-member management board and some other staff as it cuts performance awards across its workforce after posting its first annual loss in seven years.
"It would be inappropriate vis-a-vis society just to post 5.2 billion of legal provisions in one year and not reflect that in compensation, particularly when the share price has fallen and shareholders have suffered," co-Chief Executive Officer John Cryan told reporters in Frankfurt on Thursday, referring to the company's 5.2 billion euros ($5.7 billion) of litigation costs last year.
Cryan is shrinking assets and cutting costs to boost capital levels and profitability to reverse a share slump that has made Deutsche Bank the worst-valued global bank. After announcing a plan to suspend the company's dividend to shore up its finances in October, the co-CEO has said that employees will have to shoulder some of the cost of the fines resulting from the bank's past misconduct.
"I feel responsible for basically a 7 billion-euro loss, personally responsible for all of it," Cryan said of the 6.79 billion euro shortfall for last year, its first since 2008. "A decision was made by the supervisory board not to award bonuses to board members for their role as board members this year."
'Big Differentiation'
The company's current and recent board members won't be the only ones losing variable compensation for last year. While bonuses will be communicated in March, some staff will probably "have to accept a much lower and sometimes even zero bonus," Chief Financial Officer Marcus Schenck said in an interview with Bloomberg Television on Thursday.
"We will have a big differentiation in terms of how we pay out the bonus," Schenck said. "Those people that we really want to have and that are the big revenue contributors will be paid at competitive terms."
Cryan reiterated that some bankers still earn too much money after saying in November that staff are often promised rewards too quickly.
"The bonus pool this year will be down a fair amount on the previous year and I think that's right," Cryan said, adding that it is too early to say by how much.
Discretionary Awards
Deutsche Bank paid staff across its businesses 2.71 billion euros in bonuses for 2014, down from 3.16 billion euros they received for 2013, company filings show.
"We've had to make it more performance-orientated," Cryan said, citing the examples of staff in asset management and transaction banking, which outperformed other divisions.
The bank may cut discretionary awards for its investment bank by as much as 500 million euros, or almost one third, people with knowledge of the matter said in October.
"These days the structure has changed a lot, the fixed proportion represents quite a high proportion of overall pay and so a reduction in bonuses hopefully is not too demotivating," Cryan said. "I say that relatively, but not too demotivating, particularly for those staff who are committed to the bank and hope to enjoy a long career with the bank."
The bank's staff "own a lot of shares, they own a lot of deferred compensation that refers to shares, so that's hardly motivating," Cryan said.
Separately, the co-CEO said he isn't concerned that the stock slump has made the bank a takeover target and said regulators would "frown upon" big bank mergers, he said. Deutsche Bank shares have dropped about 34 percent over the past year, while Germany's benchmark DAX Index is down 9.1 percent.
Before it's here, it's on the Bloomberg Terminal.
LEARN MORE