Currency Markets Tell Kuroda He Can't Turn Back the Clock on Yen
by
Survey suggests no BOJ easing this week, more later in 2016

Stepping up program would only slow yen gains: Amundi, JPM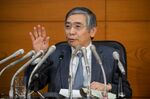 Currency traders are writing off Haruhiko Kuroda's ability to weaken the yen the way he did in 2014, when he expanded his record monetary stimulus program.
While the Bank of Japan governor won't step up bond purchases at this week's gathering, he'll have to act later in the year to get to his inflation target, according to economists surveyed in recent days by Bloomberg. A stronger currency may stymie his efforts.

The yen already climbed about 1 percent against the dollar this year, outstripping all but one of its major peers as investors sought a haven from financial-market turmoil. It's the only major currency that options traders see strengthening over the next three months and hedge funds are bullish for the first time since 2012. Amundi SA and JPMorgan Chase & Co. say more stimulus would only slow the rally, not reverse it, in part because the BOJ is running out of bonds to buy.
"We don't think that additional easing will have much impact on the yen," said Tohru Sasaki, head of Japan markets research at JPMorgan in Tokyo. "It's difficult for them to surprise the market compared to 2014."
That's a drawback for Kuroda, because a weaker yen would help meet his target of boosting inflation to 2 percent and keeping exports competitive. Japan's shrinking trade deficit, growing current-account surplus and speculation the Federal Reserve will raise U.S. interest rates more slowly than previously anticipated will all blunt the BOJ's ability to weaken the yen, Sasaki said.
Predicting Gains
Amundi, Europe's biggest publicly traded money manager, predicts the Japanese currency will strengthen about 3 percent to 115 yen per dollar this year, from 118.84 at 7:45 a.m. New York time on Thursday -- even with another round of stimulus. JPMorgan has a more bullish forecast of 110 yen. The median of more than 50 estimates compiled by Bloomberg is for a slide to 125 to the dollar.
The yen fell for a third day on Thursday after Economy Minister Akira Amari, a key engineer of Japan's "Abenomics" program, said he was resigning after a week fending off allegations of financial impropriety.
It's also becoming more volatile ahead of the BOJ's policy decision. On a 24-hour basis, overnight implied volatility in the dollar-yen rate hit the highest since December 2014, data compiled by Bloomberg show.
Highs, Lows
The yen reached a one-year high of 115.98 per dollar last week, before slipping back as the policy meeting approached. It has appreciated about 6 percent since touching its weakest level in 13 years in June.
In 2013, the yen tumbled 18 percent to 105.31 after Kuroda started quantitative and qualitative easing, and in 2014 it dropped an additional 12 percent to 119.78 when he expanded the program. Japan's policy chief reiterated this month that the BOJ will expand stimulus without hesitation if needed.
Yen traders are becoming increasingly bullish. The premium for options to buy the currency versus the dollar in three months, over the cost of contracts to sell, widened to 1.9 percentage points on Jan. 20, the most since August 2011, according to end-of-day prices compiled by Bloomberg.
Turn Back Time?
"If the BOJ was to ease this year, I expect the yen would fall back into a 120-to-125 range against the dollar as the central bank is unlikely to undertake massive easing like in October 2014 or April 2013," said Mansoor Mohi-uddin, senior markets strategist in Singapore at Royal Bank of Scotland Group Plc. "If easing is indeed only modest, then weakness in the yen would only be temporary as the market would anticipate no more rounds of easing."
The BOJ has stuck to its policy of expanding the monetary base at an annual pace of 80 trillion yen, mostly through the purchase of government bonds, since October 2014.
Thirty-six of 42 economists surveyed by Bloomberg expect the authority to keep its asset-purchase plan unchanged on Jan. 29. Six project action this week, while 13 don't expect a stimulus boost in the foreseeable future.
Some officials view it as a close call whether the policy board will add the stimulus this week, according to people familiar with their discussions. At its last meeting in December, the central bank outlined operational changes to its program, including lengthening the maturity of the bonds it purchases, even as it kept the pace of purchases the same.
Kuroda's 'Flair'
The BOJ "has shown a creative flair on the policy side," said Gareth Berry, a foreign-exchange and rates strategist in Singapore at Macquarie Bank Ltd., which predicts the yen will weaken to 124 per dollar in six months after another round of stimulus as soon as April.
He's more confident in Kuroda's ability to depreciate the yen than most. While the data pre-date the latest easing speculation, hedge funds pushed net bets on a stronger yen to a four-year high of 37,653 contracts in the week ending Jan. 19, according to the Commodity Futures Trading Commission in Washington. Investors were bearish as recently as Dec. 29.
"Rather than driving down the yen to boost the economy as in 2014, this time will be more of a defensive position to avoid the yen rising too fast," said James Kwok, head of currency management at Amundi in London.
Before it's here, it's on the Bloomberg Terminal.
LEARN MORE