China's Growth Addiction Is Loosening Its Grip
Bloomberg News
Nine regions set GDP growth goals as a range, not a figure

13 provinces failed to meet their expansion goals last year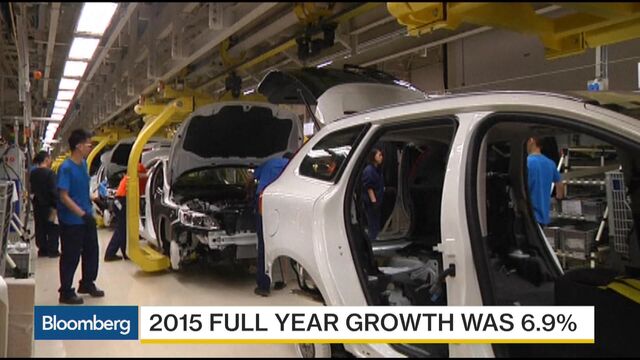 Fresh evidence of China moving away from a growth-at-all-costs strategy is emerging in the annual targets of the nation's regional authorities.
With new metrics like debt sustainability and cleaning up the environment rising in focus, 11 of 31 provinces have lowered their growth goals for 2016. Nine have moved away from a pinpoint figure, and now present a range of growth to shoot for -- an approach some economists anticipate the national government will adopt when it unveils its objective in March.
The more modest goals are a departure from the days when provincial governments led stimulus binges, creating a debt pile that hangs over today's growth prospects. While President Xi Jinping and Premier Li Keqiang have signaled they'll tolerate a slower expansion, they've set a line in the sand at an average of 6.5 percent through to 2020 -- the pace needed to achieve long-term goals to double incomes and the economy's size from 2010 levels.
"The government seems to be lowering the importance of GDP targets and prioritizing things like cleaning up the environment," said Zhu Qibing, a Beijing-based analyst at China Minzu Securities Co. "The other reason for targeting a range is the increasing difficulty in reaching targets as the economy slows. It's embarrassing to set a low target, but a high target is too difficult to meet. So a range provides some flexibility."
Whether the central government follows suit will be known early in March, when the nation's leaders gather in Beijing for the annual National People's Congress. The majority of economists surveyed by Bloomberg News in September forecast the central government will set its GDP growth target for 2016 as a range of 6.5-to-7 percent.

Full-year growth was in line with the government's targets for the past two years, coming in at 6.9 percent in 2015 and 7.3 percent in 2014, versus goals of about 7 percent and 7.5 percent. The central government last set a growth range in 1995, according to a tally compiled by state media.
"The central government will likely set the goal as a range of 6.5-to-7 percent, so it both reflects the prospect of steady growth and firmly sets a minimum level," said Wen Bin, a Beijing-based researcher at China Minsheng Banking Corp. "Targeting a range is more realistic."
"Complicated Uncertainties"

Among the 31 provinces, nine set ranges, 11 cut their goals, 10 kept them steady, and just Li's home province of Anhui is yet to release an objective.
Last year, 22 of China's 31 provinces decelerated from a year earlier as the nation's expansion slowed to the weakest pace in 25 years. The northeast rust belt region Liaoning was the worst performer, expanding 3 percent -- just half the local authorities' target. They're aiming for a 6 percent expansion this year.
Coastal Zhejiang -- home to Alibaba Group Holding Ltd. -- is gunning for 7-to-7.5 percent growth this year. The change to a range is due to "increasingly complicated uncertainties in the economy," the official newspaper of the province reported, citing an official. The flexible goal "leaves space for deepening reform, switching growth models and adjusting structure," according to the paper.
Six provinces bucked the national slowdown, posting faster year-on-year growth. The Southwest province of Yunnan -- a popular tourist destination -- saw the biggest pickup to 8.7 percent from 8.1 percent a year earlier.
5-Year Plan
This year is the first year of China's 13th five-year plan -- a blueprint for development spanning family planning to specific steel production targets. Most provinces also lay out an average GDP target for the period, along with goals such as reducing excess industrial capacity and improving energy efficiency.
The smog-plagued capital Beijing has vowed to improve the environment and is targeting a 5 percent cut this year in the fine particles deemed most hazardous to the city's more than 20 million people. Hebei, which produces a quarter of the nation's steel, has vowed to reduce annual steel capacity to 200 million tons by 2020.
Shanghai -- shooting for 6.5-to-7 percent -- also set goals to build a global economic, financial, trade and transportation hub and an "international cultural metropolis," according to its government annual work report. The city scrapped specific GDP targeting last year.