China Citic Bank Uncovers $147 Million Bill 'Risk Incident'
Bloomberg News
Lender says cooperating with investigation by authorities

CBRC is tightening scrutiny on banks' bill-financing business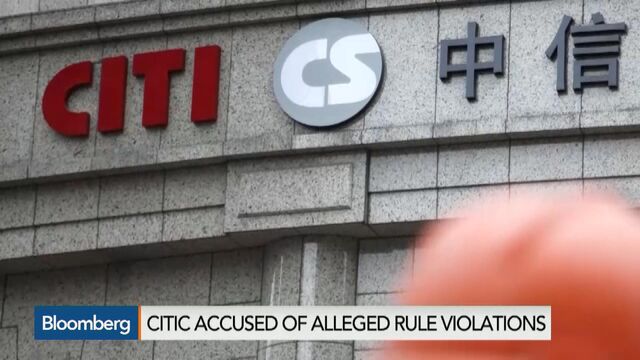 China Citic Bank Corp. recently uncovered a "risk incident" involving 969 million yuan ($147 million) in relation to its notes business, the unit of the nation's largest investment conglomerate said late Thursday.
The police have started a probe and frozen related assets and funds, the lender said in an e-mail, adding that it is cooperating with the authorities. It also released statements to the Shanghai and Hong Kong stock exchanges.
Earlier, people familiar with the matter said that an employee at the bank's branch in Lanzhou city allegedly conspired with other people between May and July to fake documents that were used as collateral to obtain a bankers' acceptance. That was later sold several times at discounted prices, said the people, asking not to be identified as they aren't authorized to speak publicly on the matter. The proceeds were invested in stocks, and the fraud was uncovered after Chinese equities slumped, one of the people said. 
The incident underscores the poor internal controls at some Chinese banks and the risks involved in the bill-financing business, which has doubled in value to 4.6 trillion yuan in the past two years. The bills are used for short-term corporate lending, but have often been used to fund speculative investment in real estate and shares. Banks have sometimes used the bills to inflate their balance sheets to meet regulatory requirements.
Loopholes, Risks
"Bill financing is a business rampant with loopholes and operational risks, and is taken advantage of by many banks for regulatory arbitrage," said Ma Kunpeng, a Shanghai-based analyst at Sinolink Securities Co. "These are not isolated cases. The regulator has tried to fix it many times but failed each and every time."
Agricultural Bank of China Ltd., the nation's third-largest lender, last week revealed a 3.9 billion yuan case of bill fraud at its Beijing branch.
In a sign of tighter scrutiny, the China Banking Regulatory Commission issued a notice earlier this month asking banks to review bill-financing businesses for violations and risks, people familiar with the matter have said.
Onsite checks of some banks' bills businesses last year by the regulator found "imprudent behavior," according to a notice seen by Bloomberg News. The CBRC identified violations including fraudulent transactions, the use of the financing to inflate deposits and loans, and adjustments intended to lower capital charges, the notice showed.
Regulatory Clampdown
An Industrial & Commercial Bank of China Ltd. branch has suspended such lending for iron ore, steel trading and coal-trading companies, and limited transactions to select banks, a person familiar with the matter said last week.
The regulatory clampdown on bill financing has tightened market liquidity and added to the pressures on China's central bank, which this week added the most funds to the financial system in three years to prevent a cash crunch as money demand picks up before the week-long Lunar New Year holiday.
Citic Bank shares fell 0.5 percent in Hong Kong on Thursday. In Shanghai, the shares lost 2.9 percent. The bank's parent is Citic Ltd., a conglomerate with more than 5 trillion yuan of assets and interests in financial services, resources, manufacturing and real estate.
Bankers' acceptance, known in China as bills, are short-term debt instruments issued by a company with a maturity of up to six months and guaranteed by a commercial bank, usually as part of a commercial transaction. The bill can be sold to another financial institution or the central bank at a discount before it matures, making it a common tool of obtaining financing.