Photographer: Andy Wong/AP Photo
Charting the Markets: China Falls Again, Defying Gains in Other Emerging Markets
This week the government has injected the equivalent of $90 billion into money markets, the most in almost three years, to prevent a cash crunch before the Lunar New Year holiday.
by
Global stocks held steady after the Federal Reserve's policy statement acknowledged global risks, reducing the chances of a March rate hike to 18 percent, according to Bloomberg data, compared with 25 percent on Tuesday. Since the Fed tightened policy on Dec.16 the MSCI All Country World Index has fallen 7 percent.

China's Shanghai Composite Index fell to its lowest level since November 2014, taking its decline for the year to 25 percent, the most since 2008. Authorities continue to take measures to stabilize the nation's financial markets. This week's net injection of 590 billion yuan ($90 billion) into the money markets ahead of the start of the Chinese new year was the biggest since February 2013. Further declines in the equity benchmark could be on the way. Strategists and technical analysts surveyed by Bloomberg are targeting a bottom of 2,500, compared with 2,656 today. Since the Shanghai Composite Index reached a record high on June 12 it has plummeted 48 percent. It remains the world's worst performing major equity index in 2016.

Emerging market stocks and currencies gained outside of China as investors stepped up bets the Fed will refrain from raising U.S. interest rates at its March meeting. The J.P. Morgan Emerging Market Currency Index rose to its highest since Jan.14. Only a week ago the gauge tracking emerging market currencies against the dollar fell to a record low. Since then it's risen 1.5 percent. Emerging market stocks have rebounded 4.4 percent from an almost seven-year low last Thursday. The gauge sank 17 percent in 2016 as China's economy slowed, commodities plunged and as the Federal Reserve readied for its first rate hike in almost a decade. Today's best performing emerging market currency is Malaysia's ringgit. It rose for a fifth day, the longest winning streak since September. Prime Minister Najib Razak announced a revised 2016 budget to take into account the slump in oil revenue for Asia's only major net oil exporter.

Europe's second-biggest clothing retailer is feeling the effects of a stronger dollar, which is raising garment costs. Hennes and Mauritz reported an 8.4 percent drop in fourth-quarter pretax profit as the unusually warm winter season led to discounting. The dollar's strength will continue to be felt in the first quarter. The Swedish company gets about 80 percent of its products from Asia, where clothing prices are linked to the greenback. China's slowdown isn't deterring H&M. It plans to add 425 shops to its total this year, with a focus on the world's second-biggest economy and the U.S. H&M shares have fallen 5 percent in 2016.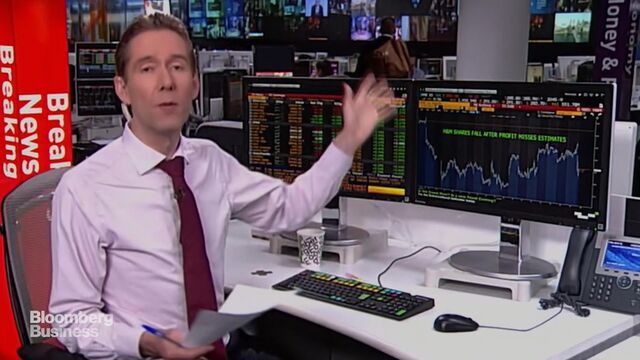 Mark Barton is a presenter on Bloomberg TV. Follow him on Twitter @markbartontv
Before it's here, it's on the Bloomberg Terminal.
LEARN MORE