Caterpillar Cheered for Hunkering Down as Machinery Outlook Dims
By
Fourth-quarter profit excluding one-time items beat estimates

Even so, company says profit declines will persist in 2016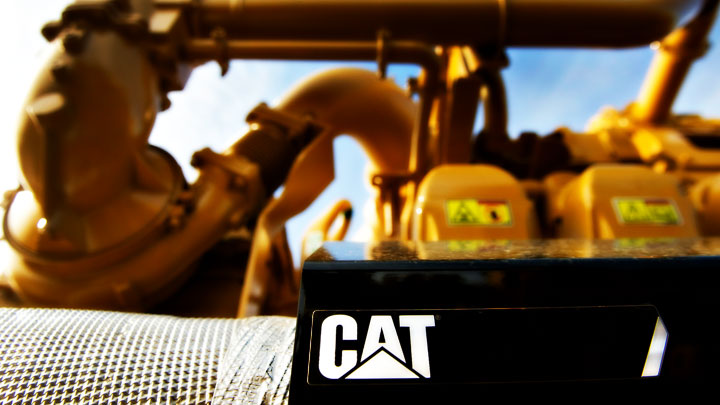 Caterpillar Inc., the biggest maker of construction and mining machinery, reported better-than-estimated earnings as cutbacks blunted the effects of a commodities meltdown. The stock rose the most in a month.
Fourth-quarter profit excluding one-time items was 74 cents a share, the Peoria, Illinois-based company reported Thursday. That beat the 69-cent average estimate of analysts tracked by Bloomberg. Shares jumped as much as 7.1 percent, and were up 4.7 percent at the close in New York.
A 15 percent decline in operating costs shows Caterpillar is having some success in muting the effect of declining demand in the mining industry for its signature yellow machines and of an energy crash that pushed oil prices to a 12-year low. In the last two years, revenue has fallen by about $10 billion. This year, Caterpillar is looking for a boost of $605 million from accounting changes related to pension and other benefit plans.
"Caterpillar is doing what it can to insulate the financial outlook," Larry De Maria, an analyst at William Blair & Co. in New York, said by telephone Thursday. "The commodity cycle, which is now getting worse because of oil and gas, is taking a bite out of its core markets."
Sales Shrink
Earnings this year will be $4 a share, excluding one-time items, compared with $4.64 in 2015. Analysts expected $3.48 for 2016, based on the average of 22 estimates tracked by Bloomberg. Sales will fall to $40 billion to $44 billion, with a midpoint of $42 billion, the company predicts, compared with the $43.5 billion average estimate.
Caterpillar sees sales in the resource industries declining 15 percent to 20 percent this year and 5 percent to 10 percent in in construction as weakness in developing countries and oil-producing regions offsets relatively stable U.S. economic growth, it said.
"The outlook for 2016 sales and revenues does not anticipate improvement in world economic growth or commodity prices," Chief Executive Officer Doug Oberhelman said in the statement.
Caterpillar reported a net loss of 15 cents a share compared with profit of $1.23 a year earlier.
While Caterpillar shares have slumped 27 percent in the past year, global mining companies have fared far worse with the Bloomberg World Mining Index plunging 43 percent. Now the equipment maker is trading near its highest relative to miners since at least 2003.
Beginning in 2016, Caterpillar will measure and record gains, losses and interest costs related to its pension and other benefit plans using spot rates and recognizing returns in the quarter in which they occur, rather than in the future. The accounting changes will save the company about $605 million and won't affect benefits paid to participants, it said.