Cam Newton Made an Extra $1 Million Last Week, Agent Says
by
Panthers quarterback is NFL's No. 2 pitchman behind Manning

Athletes in other sports top football players in endorsements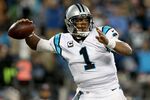 For leading the Carolina Panthers to the NFC championship, Cam Newton gets a starring role in Super Bowl 50 -- and an additional $1 million in endorsement bonuses, putting the 26-year-old quarterback in position to become the National Football League's highest-paid pitchman.
In addition to the $31 million the Panthers will pay him this season, Newton now makes $11 million annually from deals with companies including PepsiCo Inc.'s Gatorade, Microsoft Corp., General Motors Co., and Under Armour Inc. "Last Friday it was $10 million," said his agent, Carlos Fleming of WME/IMG, declining to say which deals include bonuses for reaching the Feb. 7 Super Bowl in Santa Clara, Calif.
Newton trails Denver Broncos quarterback -- and Super Bowl opponent -- Peyton Manning. According to Forbes, Manning earns $12 million from contracts with Nationwide Mutual Insurance Co., Papa John's International Inc., DirecTV and others. 
But Manning, 39, suggested he may retire after the Super Bowl, leaving Newton to vie with the New Orleans Saints' 37-year-old quarterback Drew Brees ($11 million in endorsements). Both are trailed by the New York Giants' Eli Manning, ($8 million), Green Bay's Aaron Rodgers ($7.5 million) and Houston defensive end J.J. Watt ($7 million).
Newton, a leading candidate for the Most Valuable Player award, may add a memorabilia deal and "one or two" more endorsements soon, Fleming said, adding that some existing sponsors are negotiating extensions of their contracts. Under Armour signed Newton to an extension before this season began, a contract that includes bonuses pegged to career milestones, according to company spokeswoman Danielle Daly.
"Cam's impact on and off the field makes him the face of the NFL at the most premium position, and he deserves to be paid like it," said Scott Becher, managing director of Z Sports & Entertainment.

Even so, the endorsement income of individual NFL players, even quarterbacks, pales in comparison with other sports. Tennis's Roger Federer, for instance, earned $58 million in endorsements last year, according to Forbes. Golfers Tiger Woods ($50 million) and Phil Mickelson ($44 million) were second and third on the list, ahead of basketball players LeBron James ($44 million) and Kevin Durant ($35 million).
Before it's here, it's on the Bloomberg Terminal.
LEARN MORE