Brazil Signals Rate to Stay Flat on Impact of China Slowdown
by and
Central bank highlights recession, China landing in minutes

Swap rates fell as traders pare bets on hiking this year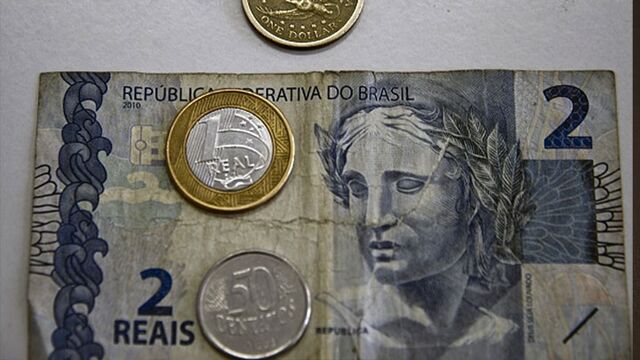 Brazil's central bank president Alexandre Tombini is betting on a weak domestic economy and slowing Chinese demand to help bring inflation down this year, signaling the benchmark lending rate will stay on hold.
"The reading of the central bank on the impact of China and recent international turbulence is that they will be recessionary," Enestor dos Santos, principal economist at bank Banco Bilbao Vizcaya Argentaria SA, said about the minutes to last week's rate decision published Thursday. "They don't look like minutes of a central bank that will increase rates."
The bank's board surprised traders and analysts Jan. 20 when it balked at boosting the key rate, with the majority opting instead to keep it at 14.25 percent for the fourth straight meeting. The decision caused inflation forecasts to surge on wagers policy makers expect the recession rather than further monetary tightening to damp consumer prices.
Swap rates fell Thursday, with the contract due on January 2017 dropping 12 basis points to 14.58 percent in morning trading, as traders pared bets on monetary tightening this year.

"It's necessary to monitor the impact of recent changes in the domestic and external balance of risks for inflation, which combined with monetary policy adjustments already implemented, may strengthen the scenario of convergence toward the 4.5 percent target in 2017," according to the majority view published in the minutes.
Door Open
But the central bank didn't completely close the door to future rate boosts, saying administered price increases and uncertainties surrounding government budget policies still pose a risk to inflation.
The central government's budget deficit before interest payments jumped more than 500 percent to 115 billion reais last year from 2014, the Treasury said only hours after the central bank published the minutes. Weaker tax revenue and repayment of debts owed to public banks have deteriorated public finances and helped trigger downgrades of Brazil credit rating to junk.
Two of the bank's eight board members -- Tony Volpon and Sidnei Correa Marques -- dissented last week and voted instead for a 50-point increase for the second consecutive meeting. The two argued in favor of a rate hike in to "strengthen the process of anchoring inflation expectations," according to the minutes.
Brazil's deepening recession hasn't yet contained expectations on inflation, which closed 2015 at more than a 10-year high of 10.67 percent. Another gauge of inflation published Thursday by the Getulio Vargas Foundation, an education and research institution, shows the broadest measure of price increases accelerated more this month than all economists estimated, hitting 10.95 percent.

While analysts surveyed by the central bank expect consumer price increases to start easing, they see them persisting above the official target of 4.5 percent this year and next.
Political Pressure
Last week's rate decision raised questions about political interference in the central bank, which had signaled in weeks leading up to the decision it would start monetary tightening to combat inflation. Policy makers changed their message on the first day of the two-day meeting, when Tombini said in a statement the central bank would take into account forecasts showing the downturn will deepen this year.
Members of the ruling Workers' Party had ratcheted up pressure on Tombini before the gathering, with its president Rui Falcao saying in late December that rate increases would hurt investment and possibly exacerbate the economic contraction. President Dilma Rousseff has refrained from publicly telling policy makers how to act, instead saying they have operational autonomy -- but not full independence.
The committee reiterated in Thursday's minutes that it will adopt the measures needed to bring inflation to its 4.5 percent target in 2017.
Before it's here, it's on the Bloomberg Terminal.
LEARN MORE