Anglo's Kumba Iron Ore to Cut 3,900 Jobs After Prices Plunge
by and
Africa's largest iron ore miner may reduce workforce by 3,900

Anglo shares rise after higher copper, nickel, coal production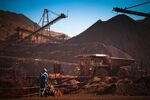 Anglo American Plc's Kumba Iron Ore unit may reduce its workforce by more than a third as it targets a possible 3,900 jobs at Africa's largest mine for the steel-making ingredient.
Kumba started talks on staff reductions after deciding to restructure the Sishen mine in South Africa's Northern Cape province, the Pretoria-based company said in a statement Thursday. About 2,633 employees of Kumba and 1,300 contractors will be affected. The company also reported increased copper output, boosting Kumba shares and sending Anglo to a three-week high.
The jobs cuts are happening as Kumba weathers a collapse in iron ore prices to less than a quarter of their peak in 2011. A slowdown in China restricts demand from the biggest user while the largest miners, including Vale SA and Rio Tinto Group have raised production to build market share, spurring a glut. The World Bank forecasts the raw material will post the biggest loss among metals this year as low-cost supply continues to outstrip consumption.

"This has been an extremely difficult decision," Norman Mbazima, Kumba's chief executive officer, said in the statement. "After exhausting all other avenues and doing all we could have done to reduce costs, we have no choice but to take more significant steps to preserve the viability of the mine."
The cuts represent 45 percent of Sishen's workforce and 36 percent of the staff and contractors employed in total by Kumba, which also operates the Kolomela mine in the Northern Cape. Kumba employed 7,434 of its own staff and 3,627 contractors at Dec. 31, Nikki Wetzlar, a spokeswoman for the company, said by phone. Last year, more than 1,100 employees were affected by Kumba's closure of the Thabazimbi Mine in the Limpopo province.
Anglo advanced 8.7 percent to 275.9 pence in London, paring this month's loss to 7.9 percent. It was the worst performer in the U.K.'s benchmark stock index last year, sliding 75 percent. Kumba rose 1.3 percent to 32.60 rand after earlier gaining as much as 7.1 percent. Anglo owns about 70 percent of Kumba, according to data compiled by Bloomberg.
Kumba said in July it was able to withstand iron ore prices of $45 per ton. "If prices decline significantly below that, we have to think again about our business and what to do about that," Mbazima said at the time. Ore with 62 percent content delivered to Qingdao was at $41.92 a dry ton on Thursday after bottoming at $38.30 on Dec. 11, a record in daily prices going back to 2009, Metal Bulletin Ltd. data show.
"We're all aware that the commodity prices have fallen for quite some time," Mosebenzi Zwane, South Africa's Minister of Mineral Resources, told reporters in Pretoria. "We're going to do everything possible in our power to try and control the situation."
Production Figures
Anglo's fourth-quarter copper production from its retained operations rose 23 percent from a year earlier to 181,400 metric tons, it said Thursday. It mined 10,500 tons of nickel and 5.5 million tons of coking coal. Kumba's iron ore production declined 12 percent to 10.9 million tons, while platinum and diamond output also decreased.
The numbers were "more encouraging than previous production results from across 2015," Paul Gait, a mining analyst at Sanford C. Bernstein Ltd. in London, wrote in a note to investors. Iron ore was ahead of expectations, while copper output was a "strong result," he said.
Anglo, based in London, is seeking to turn around its fortunes with a drastic downsizing plan. The company said last month it will reduce by more than half the number of mines it owns and eventually lower employee numbers to 50,000, from 135,000.
It's "encouraging that guidance was largely achieved," Investec Plc said in a note. "More important in the in the year ahead will be updates on divestments and restructuring progress to deliver value."
Miners have been battered by headwinds from slowing growth in China, their biggest customer, and gluts in markets from metals to energy markets. That's forced producers, including Anglo, to scrap dividends and sell assets, while Glencore Plc and Freeport McMoran Inc. have sold shares to strengthen their finances.
Before it's here, it's on the Bloomberg Terminal.
LEARN MORE