Alibaba Sales Rise 32% as Ma's Push to Rural China Boosts Growth
By
Gross merchandise value surges 23% driven by mobile spending

Mobile monetization rates increased to 2.88% in quarter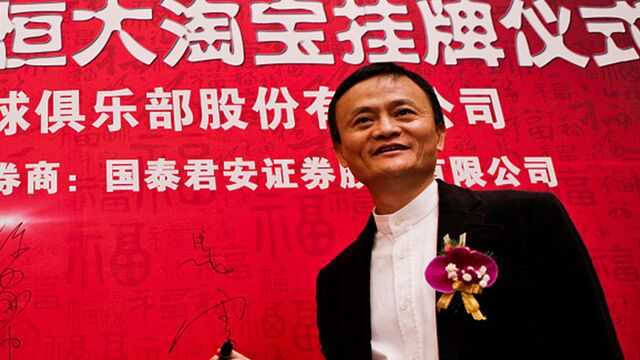 Alibaba Group Holding Ltd. reported sharp gains in revenue and profit as Chairman Jack Ma's push into China's countryside helped growth amid a slowing economy.
Sales surged 32 percent to 34.5 billion yuan ($5.2 billion) in the three months ended December, the company said Thursday, compared with the 33.2 billion-yuan average of estimates compiled by Bloomberg. Net income more than doubled to 12.5 billion yuan.
Billionaire Ma is tapping the spending power of rural areas, where more than half the population live, by providing purchasing and delivery services as he captures a greater slice of the money spent on mobile shopping and advertising. Along with a resilient middle class, that's helping Alibaba capitalize on China's shift toward consumption from smokestack industries even as the economy grows at the slowest pace in 25 years.
"Our strategy is to sell goods from urban areas to villages, as well as help farmers sell farmer products to people living in the cities," Chief Executive Officer Daniel Zhang told investors on a conference call.
Mobile Monetization
Alibaba has pulled out the stops to get its e-commerce platforms in front of villagers, setting up free Internet-equipped computers and working with local officials to train potential buyers and sellers. It now has a presence in 12,000 villages across the country.
"Alibaba continues to grow as urbanization and an ever more ambitious middle class continues to drive up China's cost of living and consumption," said New York-based Brian Buchwald, chief executive officer of Bomoda, a consumer intelligence company with a focus on the Chinese market. "At the heart of it, is continued investment in mobile and simplifying payments for virtual and actual purchases."
Longer-term, Ma is investing in video content, media, on-demand services and cloud computing to generate new sources of income as he takes the e-commerce company global. Gross merchandise volume on Alibaba's Chinese retail marketplaces rose 22 percent to 964 billion yuan in the three months ended December 31, less than the 28 percent increase in the prior quarter.
Shares of Alibaba fell 3.8 percent on Thursday to $66.92 in New York, as the flagging growth in marketplace sales added to concerns about China's economic slowdown. The stock has declined 18 percent this year after a 22 percent slump in 2015.
Gross merchandise volume in its Chinese retail marketplaces rose 23 percent to 964 billion yuan in the quarter, while mobile GMV almost doubled to 651 billion yuan. The rate at which the online retailer monetizes, or earns revenue from transactions via smartphones and tablets, rose to 2.88 percent in the quarter from just 1.96 percent previously.
Chief Financial Officer Maggie Wu said she expects Alibaba's revenue to grow faster than total transactions "for the foreseeable future," suggesting that the company's monetization ability will continue to improve.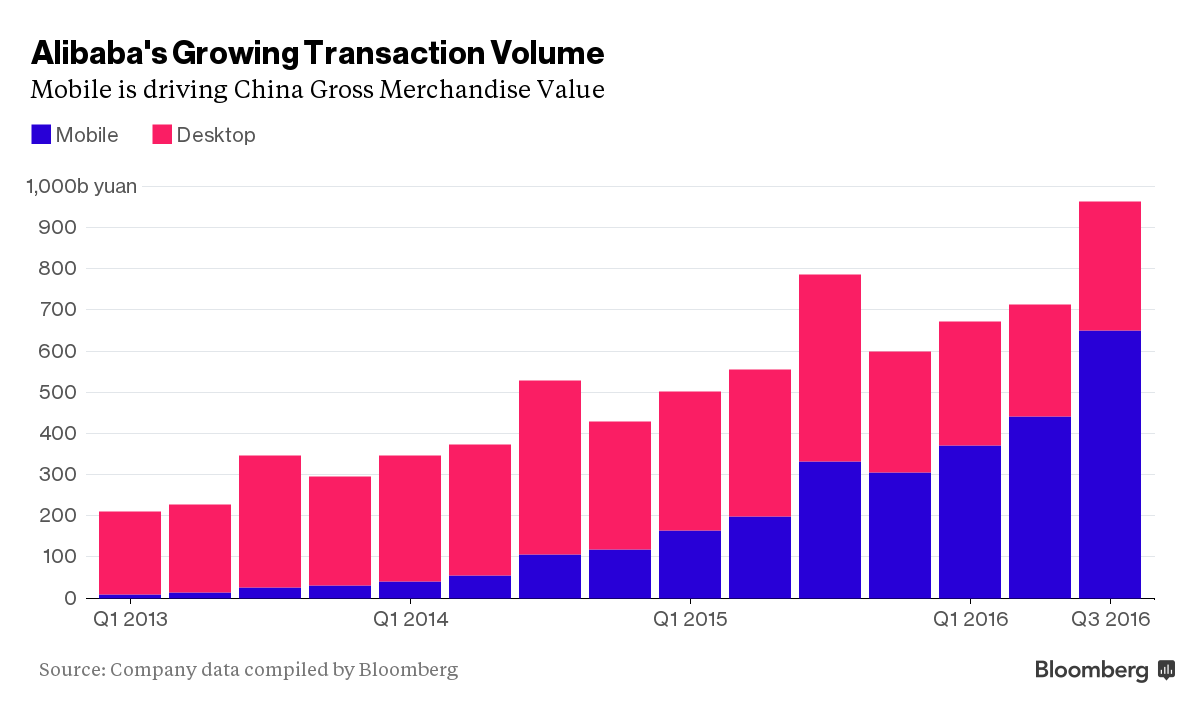 Singling Out
The quarter included November's annual "Singles' Day" promotion which generated a record 91.2 billion yuan of sales, 60 percent more than a year earlier.
"Alibaba is on track to gain more shoppers in rural areas and smaller cities in China," said Li Yujie, an analyst at RHB Research Institute Sdn in Hong Kong. Alibaba ended 2015 with 407 million active buyers, up 5 percent from the end of September.
Ma has set a goal of getting 50 percent of the company's revenue from beyond China.
Investors have highlighted escalating scrutiny about the sale of counterfeits on its websites, such as Taobao Marketplace, as a key risk for 2016. Though the company has said it's committed to combating fakes, cleaning up its image next year is crucial to Alibaba's goal of winning the trust of merchants and shoppers overseas.
Internet Services
Cloud computing revenue rose 126 percent to 819 million yuan, Alibaba said. Its AliCloud unit is staking $1 billion on the belief that demand for processing and storage from governments and companies will boost growth during the next decade as its tries to compete with Amazon.com Inc. in computing services.
Alibaba is also expanding in the online-to-offline services market. Tencent Holdings Ltd., Alibaba and Baidu Inc. are competing for supremacy in a local-services industry primed for growth as more people turn to their smartphones or the Web to order food, schedule beauty treatments or hire domestic helpers. Users of those services could rise 29 percent to 400 million by next year, with sales expected to reach 7.28 trillion yuan by 2017.
Tsai confirmed that Alibaba is selling its stake in Meituan-Dianping, the Internet platform for everything from group-buying to food delivery backed by Tencent. It will instead focus on Koubei, a local services venture with its financial affiliate now gaining momentum. The venture did 15.8 billion yuan of business through the Alipay payments system in the quarter, with an average of more than 5 million daily transactions in December.